MarComm's Star Parade is a series where we shine the spotlight on some of the global stars from the Marketing and Communications industry, and Julia Linehan, Founder & Managing Director The Digital Voice is precisely that.
Q) Give us a brief insight into your career so far?
My career started 27 years ago at Dennis Publishing, where I worked at PC Pro magazine, and within a year, I'd moved over to their digital division to be the second person within the company to work in digital. Since then, my career has been one that has been lived and breathed in digital advertising. I've worked across major companies like Associated Newspapers, The Mirror Newspapers, IAB, and many more, and I've had the pleasure of enjoying a varied career within right at the heart of the industry.
Then ten years ago this summer, I set up The Digital Voice PR agency. Initially, it was just me consulting on communications, and being the voice for companies as an individual. Over the last three years, the business has grown to a wonderful team of 18 incredible experts who support our B2B adtech and martech clients. We deliver their PR, comms, awards, events, podcasts, everything. We help share their voice through every platform and every piece of content and messaging.
Q) What according to you is the strongest tool in your skill set?
My strongest tool without a doubt is my energy. Energy is what powers me to get up at 5am every day to fill in as much as possible within my day; for both my company and for my family. Energy is also at the heart of The Digital Voice. We are known for having boundless energy and that makes me incredibly proud that I've also got a team that reflects that value.
Our values are to improve it, own it and above all, love it and our team puts bucket loads of energy into everything we do. Hopefully that stemmed from me as a leader, demonstrating how important that skill is.
Q) What is your favourite piece of work that you have created? Or a favourite project that you were a part of?
It's actually been one that's just happened this week. Our team at The Digital Voice has been involved with the launch of GumGum into Europe. It's been a massive team effort all across the global team at GumGum and for our team to deliver their Mindset Matrix, a new framework for showing how to have true contextual understanding, smart ad creatives, attention measurement and optimisation. What's been really exciting to see during the launch is just how many different elements we have combined to achieve a huge impact. From a new website to thought leadership, press news, comments, plus creative social posts, carousels, infographics, a month-long series of events for contextual month with The Drum and a series of virtual experiences.
I'm incredibly proud of GumGum and our team at The Digital Voice for delivering such a comprehensive launch.
Q) What is your favourite piece of work you wish you had done?
What springs to mind is the Specsavers campaign that's just run on an OOH campaign. It was genius. It reflected the tone and the messaging of Specsavers. It was clear; it was relatable and it added an element of humour in a time when we most needed it. One thing that really comes out with Specsavers: you can think Specsavers, and you think of that strapline. And we always say to our clients, how do you say what you do in one line? How do you say what you do in 140 characters? Really know your voice. Be bold, be brave, be you. And that's what I think Specsavers and lots of other brands, including many of our own clients, do so well.
Q) Who (if anyone) has been the greatest influence in your career?
So many people have influenced my career. The management team 27 years ago at Dennis publishing, from Susan Ramage to Pete Wootton to my team members like Julian Lloyd Evans, Mandy Critchley, Guy Sneesby – so many people back at Dennis Publishing! Then throughout my career, all of my co founders of the Digital Leading Ladies are incredible. And now I'm head of PR and impact at a professional network called Bloom UK; so every day, I'm being influenced by the leadership team there and especially the senior leadership team of Karen Carter, Samantha Frankel, Caroline Mastoras and Sophia Durrani.
Q) What would you change about the industry, if you could?
One thing that stands out has to be the gender pay gap. I find it strange. I've never paid a man or a woman more or less. I have paid the person and the role, the amount that it deserves and it warrants – irrespective of their gender. I find it bizarre that in 2022, we're still having this conversation.
Let's hope next year, it's not "breaking the bias" on International Women's Day. It will hopefully be "broke the bias" or not even mentioned because it no longer exists as a problem.
Q) Tell us something that people wouldn't necessarily know about you?
People are often surprised at how very short I am, considering I am very noisy. In fact, it's where the name The Digital Voice actually came from.
But I'm five foot one. So small but very loud.
Q) Where would you ideally like to be in your career in the next five-years?
This is an easy one as I have such a clear vision for The Digital Voice. The team I have now is the team that I want by my side in five years time. And in fact the clients we work with are the clients we want by our side in five years time. Many of them have already been with us for years and years; they become part of The Digital Voice family.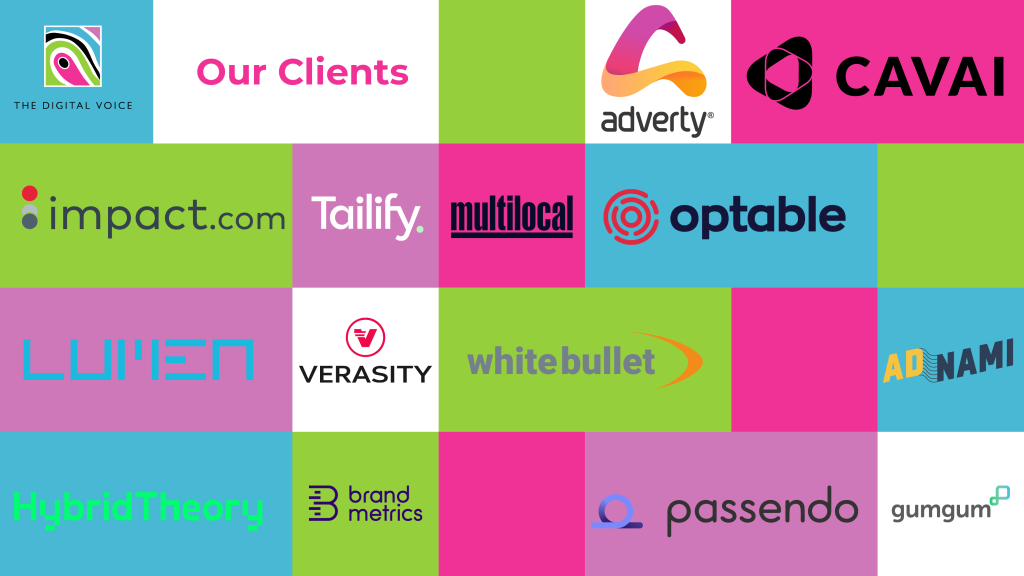 The next step is bringing in more technology, more content partnerships, more team training and creative solutions that really help our clients. First up, we are investing on podcast technology to enable our clients to produce podcasts with our teams as producers. Every year, I will layer on new technology and new expertise needed to drive The Digital Voice forward to be the very best we can as a small, but perfectly formed B2B ad tech agency.
Julia Linehan is Founder & Managing Director The Digital Voice