MarComm's Star Parade is a series where we shine the spotlight on some of the global stars from the Marketing and Communications industry, and Laundrapp' Marketing Campaigns Manager, Angela Freeth is precisely that.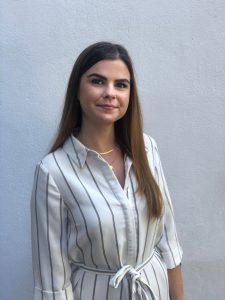 Q) Give us a brief insight into your career so far?
After over eight years in customer services it was time for me to shift into marketing. I enjoyed the comms and writing side of my former job and loved the idea of turning this skill to something more creative. I've also always been fascinated by brand building and the art of making them truly unique and recognisable. Since the career change, I've been lucky enough to work on two re-brands.
I've worked in a lot of corporate roles across a variety of industries (automotive, healthcare, hospitality), but decided I wanted something a little more rough around the edges where I could really get stuck in. I decided to make the jump to a tech start up and have been part of on demand laundry and dry cleaning service, Laundrapp, since early 2019.
Q) What according to you is the strongest tool in your skill set?
Those years in customer services have been a real asset as I think I'm really able to see things from the point of view of the customer. Working in marketing for a start-up means I'm across a variety of projects, from acquisition and CRM campaigns, to having significant input on the redesign and relaunch of the customer apps and website. Understanding the customer is invaluable in all cases.
Q) What is your favourite piece of work that you have created? Or a favourite project that you were a part of?
That would have to be the recent Laundrapp brand refresh that we completed with sister agency, Neon. We went from a brand that was safe and, admittedly, forgettable, to one which is bright, punchy and bold – not what you'd usually expect from a dry cleaning business! We launched the new creative in a campaign with Mumsnet in June of this year and the new apps and website will follow in September.
Q) What is your favourite piece of work you wish you had done?
The Dove Campaign for Real Beauty was way ahead of its time. It launched in 2006, and well over a decade later, we're still only now starting to see a shift in the way that beauty is being showcased by brands and in the media. It was another watershed moment to see Victoria's Secret cancel their infamous runway show in 2019. People are looking for realness and inclusivity now more than ever.
Q) Who (if anyone) has been the greatest influence in your career?
My mum has been a huge inspiration. She left school at 16 to work at her local newspaper in a sleepy town in New Zealand, before working as a journalist and moving to Hong Kong to pursue her career in broadcasting. She's now a global media exec.
Q) What would you change about the industry, if you could?
I would like to see more women and people of colour in senior leadership roles within marketing (and business generally). Without a range of diverse perspectives, we're going to keep seeing the same story over and over.
Q) Tell us something that people wouldn't necessarily know about you?
Much of my early life was spent travelling between New Zealand, my home country, and Hong Kong, where I lived and studied for eight years. It was such a privilege to experience and learn from these two wildly different cultures.
Q) Where would you ideally like to be in your career in the next five-years?
I'd like to be heading up the department, working alongside the leadership team within Inc&Co (Laundrapp's parent company), or, within one of Inc&Co's sister agencies.
Angela Freeth is Laundrapp' Marketing Campaigns Manager