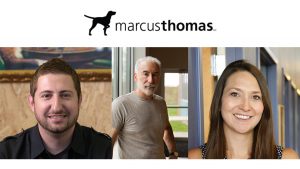 Cleveland-based independent agency, Marcus Thomas LLC, announced several promotions within its creative group, including the promotion of Jamie Venorsky to Chief Creative Officer, a new position for the agency. The role will report in to the agency's Chief Idea Officer, Joanne Kim, who leads creative innovation for the agency.
Venorsky joined Marcus Thomas in 1999 as an art director and most recently served as Executive Creative Director. Venorsky has been responsible for leading the daily operations of the creative team and elevating the creative product across the agency, whose accounts include KraftMaid, Troy-Bilt, Ohio Lottery, Behr and KeyBank.
His special talent for bringing a variety of marketing and communication disciplines together to address client challenges has resulted in numerous awards including ADDYs, One Show, AME, Webby, Communication Arts, Effie Shortlist and Content Marketing Awards.
"I couldn't be more honored to be the agency's first Chief Creative Officer. Throughout my 20+ years here I've come to learn that there's nothing more valuable than the power of an idea. As our creative group and organization continues to evolve, our focus on a culture of creativity, innovation, and collaboration will remain constant," said Venorsky. "As people increasingly seek more personalized and meaningful experiences, and brands look for ways to engage with their customers, we'll design and build direct connections to increase appreciation and inspire action. We'll make things people want. This is not necessarily the definition of advertising as we've known it, but it must be the definition moving forward."
As part of the growing creative leadership team, Creative Directors, Jim Sollisch and Stephanie Burris, have been promoted to Co-Executive Creative Directors. In their roles, Sollisch and Burris will work collaboratively with Venorsky to oversee the development of the agency's creative, studio production and design groups.
Since joining Marcus Thomas in 1989 Sollisch has helped reposition canned pumpkin as a superfood, created a 10-story product demo complete with giant 3D ants for Black Flag and worked on campaigns for a children's hospital that The New York Times called "bold and unvarnished." His advertising work has been recognized by many award shows including the One Show and Communication Arts.
Burris has provided creative direction and high-impact copy on initiatives for a client list that includes Akron Children's Hospital, GE Lighting, Swagelok, Momentive, Ohio Lottery, Bendix Commercial Vehicle Systems, and TimkenSteel. In addition to her creative work, Stephanie is devoted to community involvement. She is the inaugural winner of the David L. Stashower Visionary Award from the AAF of Cleveland and was named AAF-Cleveland Director of the Year in 2015.
Burris has earned the Morrie Sayre Founder's Award for Outstanding Volunteerism, is a member of the board of directors for Shoes and Clothes for Kids, and director, communications chair for the AAF of Cleveland. Prior to joining Marcus Thomas in 2014, she was a copywriter and creative director at Melamed Riley Advertising.
Source: Marcus Thomas LLC