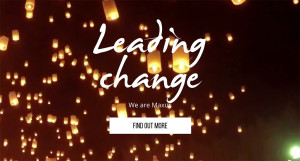 Maxus has unveiled Change Planning, a new planning methodology underpinned by advanced media planning techniques and powered by best-in-class data sources.
The new, intuitive approach allows the agency to devise communication strategies that ensure brands succeed in today's hugely changing and competitive environment. Change Planning is built to be agile, compressing timelines and ensuring that robust strategy quickly leads to more compelling and effective executions.
The Change Planning tool strips out the complexity that is inherent in many media agency planning approaches and is built around three core questions: Why are we doing this, How will this solve the problem, What are we going to make?
Change Planning is delivered via an open-source web-based platform, and leverages the power of the global Maxus network. It encourages collaboration and incorporates tools to bring client and agency partners together during the planning stages of the campaign. The tool uses localised and global data sources to provide a clear view of KPIs throughout the planning process.
The new approach has been embedded throughout Maxus and started with a training programme for staff across its 55 markets in September 2015.
Nick Vale, worldwide head of planning at Maxus, said: "We felt that the pace of change in marketing required a reinvention of the planning discipline, to something that was much simpler and focused on driving great execution quickly. We're delighted by the results we are seeing from Change Planning. The tool is highly engaging and intuitive, and we have seen solid adoption throughout the agency – it is being used for over 400 active campaigns in 38 global markets. Combining an outstandingly simple "Why? How? What?" framework with sophisticated new tools and technology, allows Maxus to bridge the growing gap between old-world planning techniques and ad-tech driven execution."
Jen Smith, head of strategy and planning at Maxus UK, said: "The fundamental objective of marketing is to impact the behaviour of your audience in a way that's good for the brand – and that begins with insightful planning. Change Planning enables us to gain unparalleled understanding of consumer behaviour and to establish what change is needed to bring about the desired behaviour. It marks a return to fundamental marketing principles, powered by a suite of stellar research resources – and we are excited to implement it to create experiences that deliver for clients."