Premier Foods is set to launch a new communications positioning for its iconic cake brand, Mr Kipling, with a comic TV spot based on the theme of its sweet treats being an 'Exceedingly Good Distraction' in a £2.5m campaign.
The ad is created by McCann London, who were recently provided an opportunity to work on the Mr Kipling brand and develop the strategic thinking and a new campaign. Alex Lubar, CEO of McCann London commented "Mr Kipling is an iconic component of our nation's snacking. We are delighted to have been given the opportunity to work on this campaign, helping to build on the brands recent success with the next stage of creative development."
The 30-second ad features a traditional British family get-together, with a young couple showing relatives what appears to be their honeymoon snaps in an everyday, pastel-coloured living room.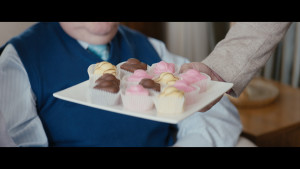 As they proudly display images of beaches and waterfalls in Brazil, their relatives' delight turns to shock and the couple look horrified when the slideshow reveals an unexpected shot – which the viewer is left to imagine as a young girl's eyes are covered.
But, in a quick-witted reaction, the male protagonist hands round some of Mr Kipling's iconic cakes – French Fancies – and as the family indulge, the female protagonist continues with the show, laughing nervously and regaining her composure, before a voiceover reads, "Mr Kipling: an exceedingly good distraction."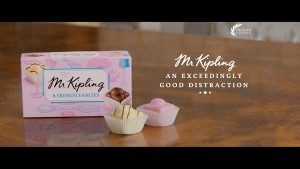 The ad, entitled 'Slideshow', launches on 11th April, on ITV, with another planned for later in the year. Phil Ellis, Marketing Director of Sweet Treats at Premier Foods, said: "Mr Kipling is one of the nation's favourite snacktime treats. We've taken a close look at the fantastic heritage of the brand and translated this in a fresh and relevant way – highlighting the range of moments in our lives when cake can provide the ultimate in indulgence and distraction."
"Mr Kipling is a brand that we've all grown up with," added Laurence Thomson, Chief Creative Officer at McCann London. "With this new positioning we're building on its heritage with a modern twist – showing Mr Kipling's power to unite the generations, even in challenging situations."