According to Kids and Cars, a global children's safety advocacy organization that tracks data about children who die in incidents involving automobiles, an average of 37 children a year die from being left alone in hot cars.
To confront this danger, which directly threatens Nido consumers, the Nestlé powdered milk brand for infants and children, McCann Santo Domingo created Umbilicar, a car safety device that prevents parents from forgetting their children inside vehicles.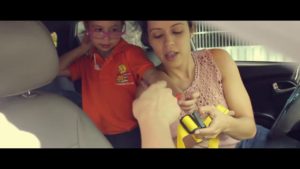 The name Umbilicar derives from the association between the simplicity of the device's functionality and the resemblance to the umbilical cord. The agency worked with expert product designers to produce a low-cost, highly effective analog device that can easily be used by anyone driving a child in a car. The device acts as a second seat belt over the child seat that won't let drivers leave the vehicle without unbuckling the child seat.
"There are many intelligent apps that help prevent this kind of negligence, but due to the low penetration of smartphones and overall poor internet signal in Dominican Republic, we thought that an analog, low cost, user-friendly device would be more effective," says Álvaro Noboa, general creative director of McCann Santo Domingo.
The initiative was a success: in just one week, over 10,000 Umbilicar units were distributed in samplings programs at kinder gardens and schools. Massive press coverage has led to an additional 300,000 units to be under production. Nido's sales in the Dominican Republic grew 27% during the campaign period.
Source: McCann Worldwide