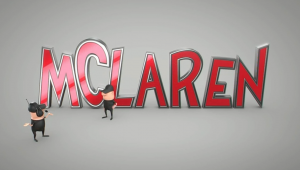 The McLaren Group, which includes the Vodafone McLaren Mercedes Formula One team, has joined forces with YouTube in a new commercial partnership.
"At McLaren we have great stories to tell. Whether it's the passion and intrigue of Formula One, or how we develop ground breaking new technologies, people are fascinated by what we do. Our exciting new partnership with YouTube will enable people to get closer than ever to our drivers, our brand and our business. Our fans can expect to see some really exciting new content in the years to come," said John Allert, McLaren Group's brand director.
The McLaren YouTube channel sees McLaren produce video content giving motor racing fans, petrol heads and those interested in the cutting edge of technology access to the heart of the company. In addition the channel also hosts the anarchic behind-the-scenes 'Tooned' animated series following McLaren's racing exploits.
Martin Whitmarsh, McLaren Group CEO commented: "As a business, this partnership is extremely positive. McLaren and YouTube are both highly respected brands and combining our content with their expertise will help us both to achieve even more. Being able to gain revenue from our content will also enable us to invest more in future videos, which will be good for our brand, good for our partners and good for our fans."
Senior director of sports for YouTube, Stephen Nuttall, added: "We're delighted that fans of this top Formula 1 team will be able to enjoy its stars, see more about F1 off the circuit, and much more through their YouTube channel."