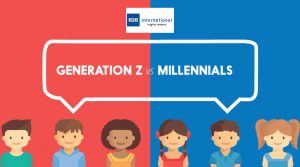 As the first Gen Z graduates start joining the job market en masse, new research shows that Millennials see the up-and-coming generation as being more money-minded and less collaborative – but more focused.
According to a six-country survey by research experts B2B International, in which over 900 HR and Business Managers were interviewed, 61% of Millennials see the youth of today as caring more about money than they do, while 54% believe Gen Z are less open to teamwork and collaboration.
On the other hand, some millennials have a view that Gen Z are better at concentrating, with 46% saying they agree with the statement that 'Gen Z are more focused with longer attention spans than Millennials'.
Chinese employers view both generations as being more vital to their futures than in any other country, with 75% telling researchers they take specific measures to attract, engage and retain Millennials and Generation Z – a much higher proportion than the US and Europe.
The fractious relationship often seen in the media between Baby Boomers and Millennials is borne out in the research. It found that while two-thirds of Millennials themselves believe they are more emotional, entrepreneurial and sensible than previous generations, Baby Boomers disagree. Where these two generations do see eye to eye, though, is in their bias against Generation Z – both groups agree that youths are less motivated to work.
"It seems that, no matter what generation you are born into, you're likely to view youngsters as being somewhat workshy. But is this really the case? I don't believe so. In an era of skill shortages, the key is discovering more effective ways of addressing future generations. Gen Z is the first cohort to have grown up in the digital era. We should therefore make it our responsibility to find ways of sparking their interest to join the workforce and to use their tremendous digital skillset to our advantage," says Conor Wilcock, Director at B2B International.
The research also found, while HR and Business Managers of all generations believe that a decent salary attracts employees most to working for their organisations, Millennials perceive a fair salary as slightly less important than previous generations. Older generations, 33% of Baby Boomers and 32% of Gen Xs, said that a decent salary was the number one consideration, while only 30% of Millennials claimed the same.
B2B International's Business & Marketing Survey 2019 is based on 2,000 online interviews with business decision makers at SMEs & enterprises across a variety of functions in manufacturing, professional services, construction, retail, healthcare and hospitality. Within the research, 945 HR and Business Managers were interviewed. Respondents were based in the US, China, Spain, the UK, France and Germany.
Source: B2B International