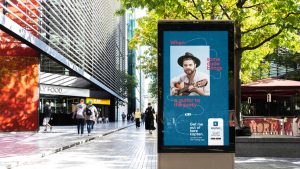 Independent creative agency Mr. President is working with Kapten as the TFL-certified ride-hailing app's lead creative agency for its launch in London. Mr. President created the brand-defining idea for the challenger company – "Get me out of here Kapten" – that positions Kapten as a new hero for London that's here to save your day, whatever situation you find yourself in.
"Kapten is already well established in France, and because of its brilliant offering, it's a proper challenger to Uber's crown. Our job was to create a fun and memorable campaign that launched the ride-hailing service to let Londoners know that Kapten is here to save the day," commented Jon Gledstone, Partner and Executive Creative Director at Mr. President.
Each execution imagines a comically awkward scenario that Kapten can rescue you from. The mug shot of a creepy guy eyeballing the camera has the line, "When you recognise your blind date from the news… Get me out of here Kapten". And an image of a soaking wet woman hiding under a newspaper in the rain, sits alongside "When the rain is biblical and Noah isn't coming…"
Gledstone continued, "So whether that's escaping a dodgy blind date, a biblical rain storm, or that 'dude' with a guitar at the party, we positioned Kapten as your trusty sidekick waiting to whisk you away from the stickiest of London situations. It might just be your best decision today."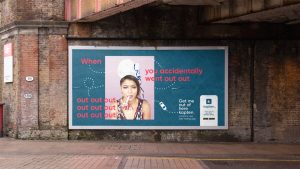 The integrated campaign, "Get me out of here Kapten" is live across London and running in print, cinema, OOH, and on radio, digital and social. Since launch, Kapten has far exceeded its targets in London, achieving more than over 250,000 app downloads and 450,000 rides taken since 15th May.
Lyndsey Donald, Kapten UK's Marketing Manager, commented, "We're excited to be working with Mr President as our creative agency for the UK. We need a partner that can help us really connect locally, and have found that Mr President truly understood our brand and ambition from the start. We're delighted with the momentum we've already achieved in London since we launched, and we're only just getting started."
Formerly known as Chauffeur Privé, Kapten is a French-headquartered ride-hailing service backed by a partnership between Daimler AG and BMW Group. Already one of the leading ride-hailing companies in France with 2 million users, Kapten has recently expanded into new cities across Europe, including Lisbon and Geneva.
An ambitious contender to Uber, Kapten recently announced that the company intends to be in 15 markets by 2020 and will spend millions of euros in advertising to introduce its new brand and enter new markets.
Source: Mr. President