This is not just any Christmas Food campaign; M&S Food's campaign brings Percy Pig to life, voiced by Tom Holland, to showcase the very best festive food and gifts
Whilst M&S Clothing continues with 'Anything but Ordinary' – the magical, musical advert shows off a range of clothing and encourages customers to make the entire season anything but ordinary
Both campaigns kick start today (4th Nov) across all customer channels – from TV to TikTok and launches as consumers are really ramping up their festive planning
M&S is launching two remarkable Christmas campaigns – one for its festive food and one for its Christmas clothing. With 50 days to go until Christmas Eve, the campaigns are launching as customers are well underway planning for Christmas – with nearly half of them expecting to have finished their Christmas gift shopping by the end of the month (earlier than usual) and 'create your own' wreaths, table centres and flowers all selling incredibly well already. This year customers really want to make it special, the recent M&S Family Matters report shows that 39% of families in the UK plan to do more to mark Christmas than they did before Covid-19 began, while 68% of people plan on getting together for a big family Christmas. Consistently insight shows that customers want brands to reflect the joy and magic they want to create with their families and these two remarkable campaigns do just that.
Launching with impact
The two campaigns share the strategy of heroing the trusted quality value of M&S's own-brand product offer, from cashmere to canapes (of which M&S will sell 84 million this season as the home of party food). Food and Clothing & Home advertising space is purchased separately by M&S's agency Mindshare, but the brand has united to launch the campaigns together for maximum impact. Today millions of customers' social feeds will be dominated by M&S content and several TV breaks (including Good Morning Britain, This Morning and Emmerdale) will feature both the Food and Clothing & Home advert. The campaigns will also be unmissable for those commuting with a wrap on the Metro for Clothing that nods to the Food campaign.
Food – Introducing the iconic Percy Pig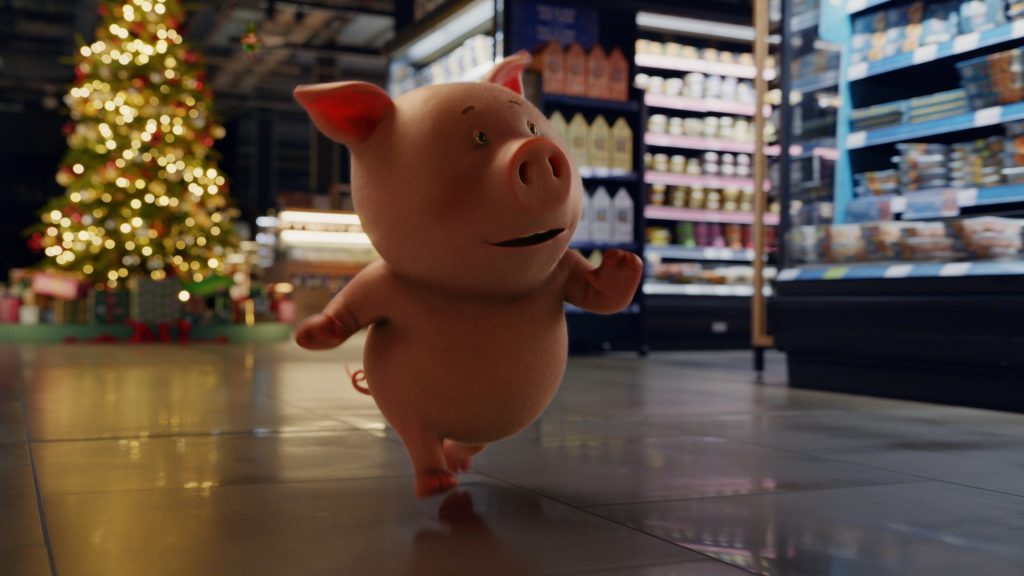 The Food campaign sees the iconic Percy Pig, a brand M&S continues to build ahead of his 30th birthday next year, brought to life for the very first time through market-leading animation. Percy, voiced by Tom Holland, is awakened in the dead of night by the magic of the Christmas fairy played by Dawn French. Percy excitedly explores the Stratford Foodhall discovering all the magic M&S Food has to offer this Christmas – from the Collection Golden Blond Christmas Pudding to Delicate Smoked Salmon. True to M&S's focus on putting Food products front and centre of campaigns, these delicious items are presented to emphasis the unbeatable quality of M&S Food. Experts from across the industry worked together on creating the advert – from the composer for the bespoke track, to creatives at Grey London, to leading animators at MPC.
The campaign will launch with a 60 second advert following a social campaign to tease the voice of Percy #whoispercypig – this pre-campaign will be seen by 9 million people across the UK. As M&S Food continues to focus on appealing to family-aged customers, TV slots (live and VOD) will remain an important way the campaign is executed. As part of the biggest campaign for several years, the team has also created a further seven adverts showing Percy exploring different food products, meaning new content will be released from now until New Year. The campaign will also be executed across the full range of marketing formats including all social channels with bespoke content and, for the first time, a TikTok takeover. As customers remain highly engaged with the M&S brand, for example email open rates are well above the industry average, the retailer will also heavily utilise its owned channels throughout the season – including iconic Percy Pig carrier bags.
Sharry Cramond, Director of Marketing for M&S Food, said: "The M&S Christmas Food range this year is better than ever and who better to tell customers about our delicious Christmas food range than the national treasure and much-loved M&S icon himself, Percy Pig. Of course, he couldn't have just any voice, and having Tom Holland give Percy Pig his first words is about as exciting as it gets. Added to that the voice of the one and only Dawn French as the Christmas fairy – it's the stuff of Christmas dreams!!"
Clothing & Home – Making the season anything but ordinary
The clothing campaign created by ODD, shot by Autumn de Wilde and starring Madisyn Ritland, brings to life a whimsical musical world with the star of the ad dancing through the iconic moments of Christmas – from shopping for presents to having fun in family PJs. The advert is a continuation of the brand platform 'Anything but Ordinary' that M&S launched for Autumn/Winter. It shares how M&S's style, quality and value products (alongside the seamless experience it offers) can help customers make the magical season anything but ordinary for their loved ones.
As with the Food campaign, the creative will be executed across a range of channels – from print cover wraps to an activation at Waterloo station. M&S will also be taking over three large scale sites bringing to life some of the theatrical magic with hand painted murals. Within TV advertising, Video on Demand will continue to be key, and M&S will be the first UK retailer to use 'Flowcode' – an innovation which allows a QR code to be seamlessly worked into the advert.
Anna Braithwaite, M&S Clothing & Home Director said, "Our Clothing & Home products help make the season anything but ordinary – from fun family PJs for cosy nights in, to the chic velvet suit for the much anticipated party season, to the best beautiful decorations for the Christmas tree. Our campaign, which we'll be sharing across all customer channels, celebrates the joy of the season and showcases the one stop shop M&S is for everything you need to make it special."
Changing Perceptions
Both campaigns are part of wider efforts to change perceptions of M&S as part of the retailer's reshape. In Food, value has been a big focus and M&S's value perception is now +8pts vs. 2019 driven by campaigns such as "Remarksable". There's also been a big emphasis on appealing to families through fun formats such as Cooking with the Stars, store-run social accounts which combined have up to 3 million views every week, and celebrity ambassadors from Rochelle Humes to Paddy McGuiness to Tom Daley. M&S Food has also recently signed up Woody & Kleiny to the M&S Family – the popular YouTube creators have a combined social following of 25 million.
For Clothing, M&S remains the number one ranked retailer for quality and continues to focus on improving style perceptions with a number of recent campaigns focused on this including Maro Itoje for Marks & Spencer and "Nothing Neutral About It". The retailer is also continuing with a number of important initiatives such as its "insider" programme which sees M&S colleagues run stylish Instagram pages.
Gift Shop
In line with the launch of its magical campaigns, today M&S is launching the full Christmas gift shop in-store and online across Clothing, Beauty and Food – which are the top three gifting categories for the UK public. The gift shop is bigger than ever before, and this year even includes a "Percy World" section in celebration of the Food advert. M&S is offering a one stop shop for its 32 million customers – helping them to make the season truly anything but ordinary.
Source: M&S