MarketingKind, a new membership community for marketers, is launching itself into the industry via an eBay auction, which will give the highest bidder the chance to work on a life-changing brief. MarketingKind brings marketers together to strengthen the role marketing can play in better advancing humankind, through outcome-oriented online gatherings and practical collaboration.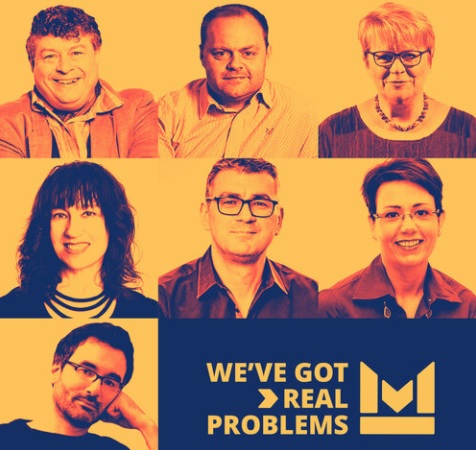 The campaign is conceived and executed by transformative communications agency HeyHuman. Bidders name their price across a ten-day auction, starting 15th October. The winner snags a seat at the table with Rory Sutherland, Mark Evans and five other industry heavyweights. Together, they'll work to solve a meaningful problem of particular concern in the UK.
The brief up for grabs is: 'How can we get businesses to see the candidate, not the disability?'
Paul Skinner, founder of MarketingKind, says: "Once they've left education and all its associated support mechanisms, adults affected by disabilities want to access employment perhaps more than any other group – yet appallingly high numbers of them are never given a chance to show what they can do. 94% of adults with registered learning disabilities, for example, never access any employment at all. The UK was criticised by the UN for lack of progress on this issue, and it's time to do something about it. How can we change recruitment and induction behaviours in businesses to correct this?"
All money raised from the auction goes directly to Sky Badger: a charity that restores fun and adventure to families with children affected by disabilities across the UK, and whose founder is leading a task force to enhance employment prospects for adults affected by disability. HeyHuman, whose CEO Neil Davidson is a founding member of MarketingKind, has been appointed as agency of record for the multichannel launch campaign.
The full dream team, who will work alongside the highest bidder to solve the brief, comprises:
Rory Sutherland: Vice chair, Ogilvy UK, The Spectator's Wiki Man, and author of Alchemy
Mark Evans: Managing director of marketing & digital, Direct Line Group
Caroline Taylor: Chief marketing officer, IBM Global Markets (on sabbatical)
Sue Unerman: Chief transformation officer, MediaCom and author of Belonging
Neil Davidson: CEO, HeyHuman
Célia Pronto: Managing director, Love Home Swap
John Grant: Strategist and author of Greener Marketing
MarketingKind strives to tackle some of the biggest issues in society today, including climate change, social isolation and poverty. As Paul explains: 'MarketingKind is a chance for marketers to step outside of their day jobs and work together with their peers from across marketing, together with pioneering change-makers, to look outwards at the most pressing problems facing us locally and globally, and build practical solutions to them together."
Neil Davidson, CEO at HeyHuman and Founding Member of MarketingKind, said: "Marketers are professional problem solvers, but many of us feel there's more we could be doing to do good for the world at large. Our launch goes all-out to address this. We've come up with a proposition that injects something unusual into the everyday: using eBay to bid for the time and expertise of some of our industry's biggest brains. We believe the result will be brilliant ideas that help make the world a better place."
"MarketingKind gives members the chance to genuinely make a real difference – to come together and solve big issues in a tangible way. We've got real problems, and we can fix them. This bid is the perfect way to set out MarketingKind's stall, and I can't wait to see people put their money where their mouths are."
The MarketingKind bid goes live on 15th October, 5pm, at this location.  You can read more about MarketingKind here.
Source: MarketingKind