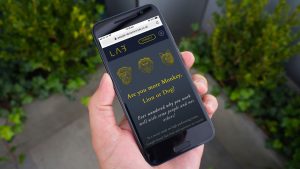 LAB, the independent digital agency that uses a blend of consumer neuroscience, psychology and behavioural economics to design, build and market digital brands and experiences, has launched a new online tool which enables people to better understand their own drivers and those of their co-workers, in order to improve teamwork.
The People Dynamics tool helps people working in any industry to understand their behaviour within a team. The tool features a 14-question test that uncovers what motivates people the most: their contextual (Monkey), rational (Lion) or emotional (Dog) drivers.
Users can also create a team profile, where each person can take the test to see both their individual results and the overall results of the team. The tool reveals whether their team is more contextual, rational or emotional overall, and whether individuals are driven more by one factor, or if they have a balance of all three.
The tool offers teams the insight they need to improve their performance, and even have better meetings. The best functioning teams have been found to be those that have a good balance, with all three drivers of behaviour (contextual, rational and emotional) present.
LAB is distributing the tool via email and on its website and social channels.
Daryll Scott, Director of Human Technology, LAB, said: "We all know that different people make different choices and behave differently in a team environment. Using our expertise in psychology, we've developed a tool which allows people to gain a better understanding of what's going on and what drives individuals when working as part of a team."
Source: LAB