Report from We Are Social also finds that UK social media ad spend has increased more than 25% year-on-year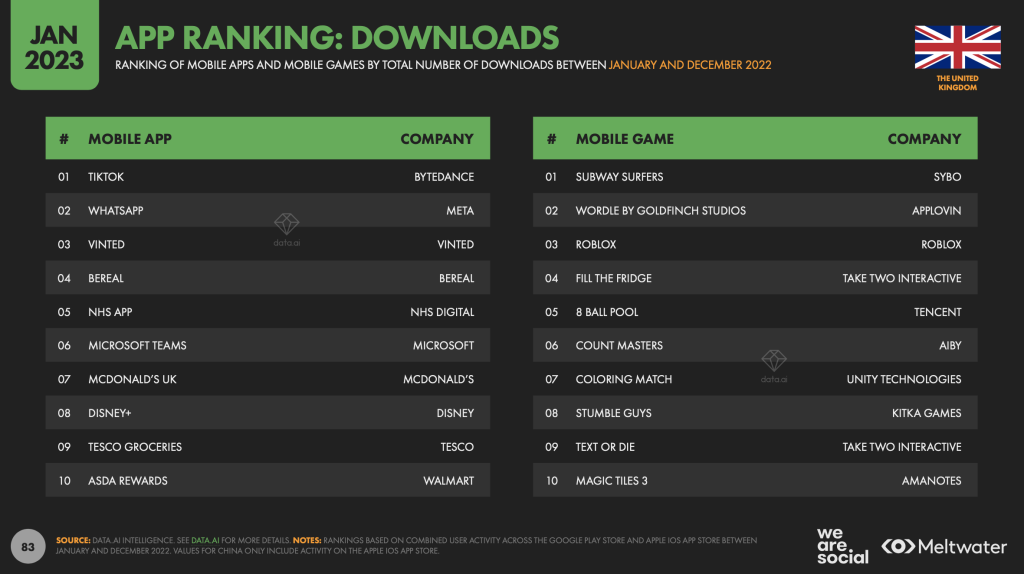 We Are Social, the socially-led creative agency, and Meltwater, a global leader in social and media intelligence, have released Digital 2023: The United Kingdom, which covers social media and digital data and trends in the country.
The report shows that in 2022, TikTok was the UK's most downloaded mobile app (up from third in 2021), followed by WhatsApp, Vinted, BeReal and the NHS app. However, WhatsApp was named the nation's favourite social media platform, followed by Facebook and Instagram, with TikTok and Twitter in fourth and fifth place respectively. WhatsApp is also the UK's most used social media platform, with 73% of internet users aged 16-64 messaging each month, followed by Facebook (71%) and Instagram (56%).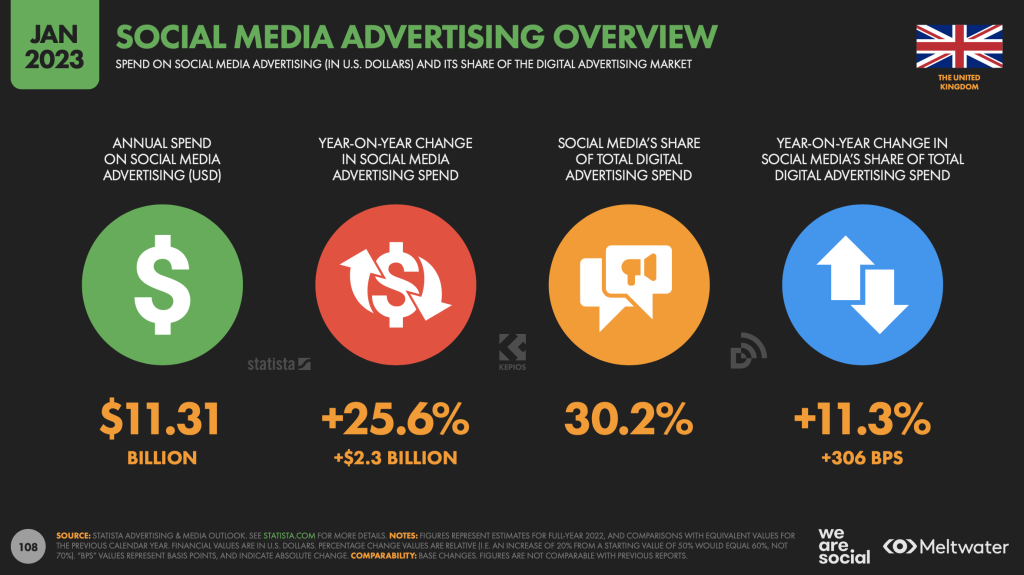 The UK has 57 million social media users, who spend an average of 1 hour and 56 minutes each day on social platforms. Keeping in touch with friends and family is by far the most popular reason that social media users cite for their use of social platforms (53%), followed by filling spare time (37%) and reading news stories (27%).
Marketers are increasingly investing in social platforms, with annual spend on social media advertising in the UK now at $11.3 billion, an increase of more than 25% year-on-year. Social media now accounts for almost a third of the UK's entire digital ad spend.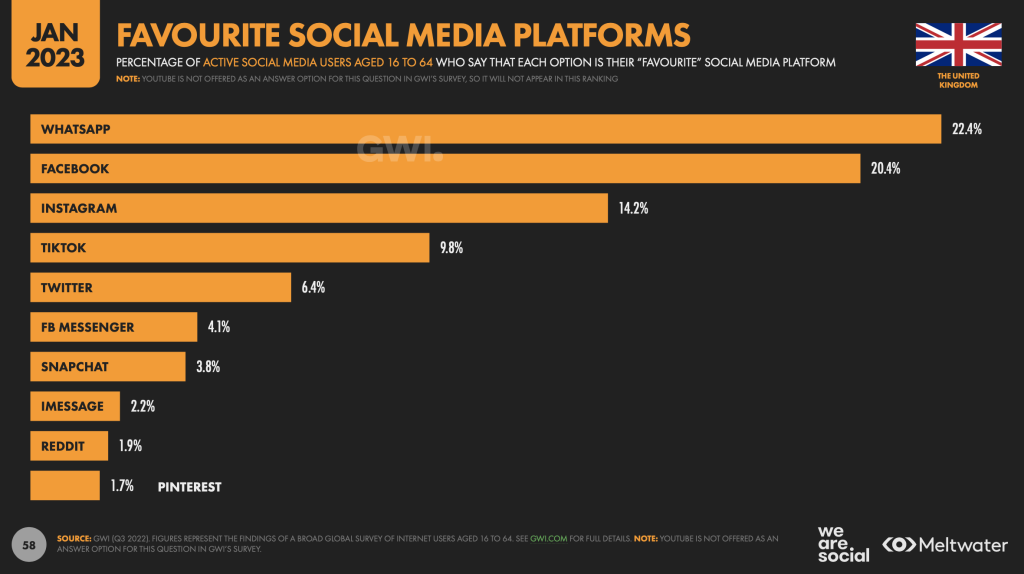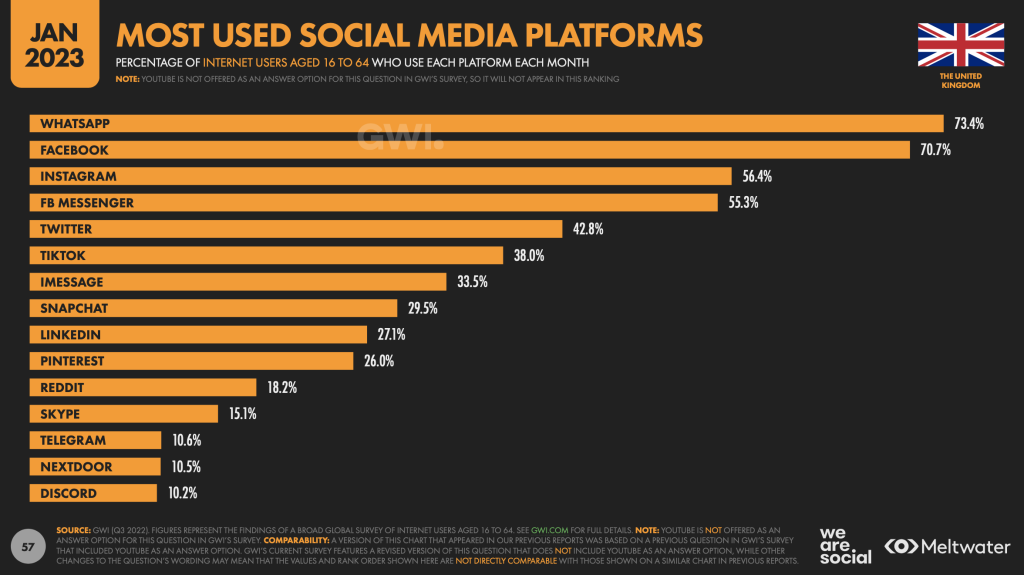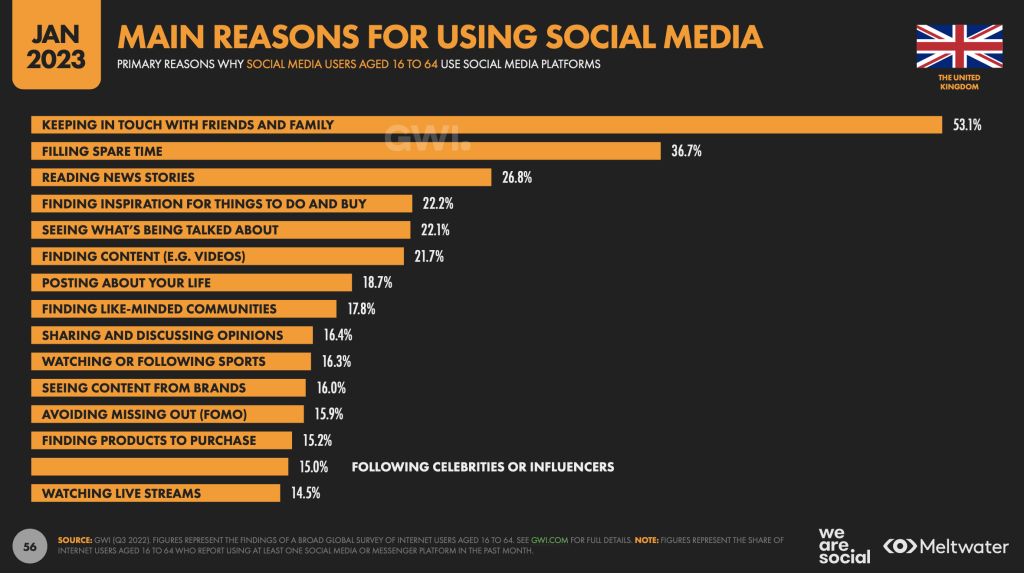 Jim Coleman, UK chief executive officer, We Are Social, commented: "While social giants like Facebook and WhatsApp are firm favourites across the UK, the rise of TikTok and BeReal shows there's still room for new platforms to make their mark on the social landscape. In 2023 brands need to make sure they understand the behaviours of online communities – wherever they are gathered – so that they can speak to them in a relevant and effective way."
Read the full report here: https://wearesocial.com/uk/blog/2023/01/digital-2023/
Source: We Are Social