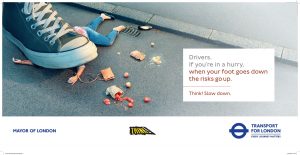 Transport for London (TfL) want to reduce the number of deaths and serious injuries on London's roads by getting people to slow down and drive appropriately for the conditions.
Every day, an average of two people are killed or seriously injured by drivers doing something so common: driving too fast for the conditions of the road.
Driving at an inappropriate speed doesn't necessarily mean breaking the speed limit but depending on the road conditions, volume of traffic, time of day, number of pedestrians and cyclists or even the amount of parked cars, driving at 30 mph can be dangerous. It can put lives at risk.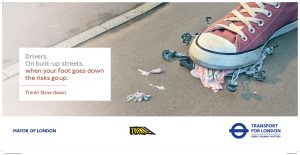 Research demonstrates that drivers, though privately aware that on occasion they've driven too fast themselves, often think it's someone else's fault. VCCP looked at the behaviour that puts the most people at risk: accelerating. And it's putting your foot down on the accelerator that is the driving habit that raises risks the most.
So the simple, memorable idea that underpins the entire campaign is: when your foot goes down, the risks go up.
The creative idea is to show a direct causal link between the foot going down and the collisions themselves. The resulting images are a potentially shocking and certainly original way of depicting this cause and effect. You don't need to see the vehicle, simply the behaviour, to understand the message and the tragic consequences of ignoring it.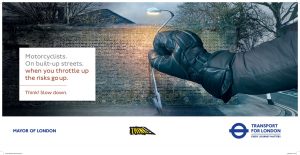 On radio, VCCP felt it was important to educate drivers and go into more detail about what common driving behaviours can be most risky. It's vital that people understand that driving at the speed limit isn't necessarily driving at an appropriate speed for the conditions. Just because it's legal doesn't mean it can't be fatal.
This impactful campaign will go out across OOH, digital and radio.
Matt Lever, Deputy Executive Creative Director at VCCP commented: "When the price of failure is an average of two deaths or serious injuries a day, our thinking has to be very concentrated indeed. Clarity, simplicity and memorability are key to this. If we can lodge our message that "when your foot goes down, the risks go up" in drivers' minds, we believe they'll be a little less heavy-footed."
Source: VCCP