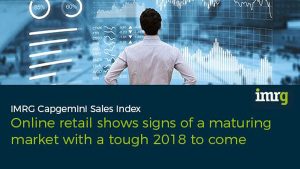 UK online retail sales were up 12.1% on average year-on-year (YoY) in 2017, according to the latest figures from the IMRG Capgemini e-Retail Sales Index. Compared to 2016's YoY average of 15.9%, and just under 2 percentage points lower than the Index's 2017 forecast of 14%, the fall in annual growth is one of multiple indicators of a maturing market. Indeed, across the twelve months of 2017 only March and April showed notably stronger YoY growth than the previous year.
The Index performance in 2016 was largely driven by strong sales growth through smartphones, but this slowed in 2017. Sales growth through smartphones averaged 77% each month from July to December 2016. In the same period in 2017 it fell to 50%. Growth through tablets has also stalled (up 0.7% in 2017), and 2018 growth is expected to slow down further for all devices.

This is actually consistent with a 3-year-bounce pattern of growth identified in the Index, with peaks starting in 2010 and repeating in 2013 and 2016. 2010's high growth rate can be attributed to a host of factors (including improved website load speeds, user experiences, and connectivity), 2013 was when tablets started to account for a significant share of online retail, and 2016 was driven by the proliferation of shopping via smartphones. Should 2018 follow this pattern we can anticipate a new stimulus to be entering or proliferating the market during 2019.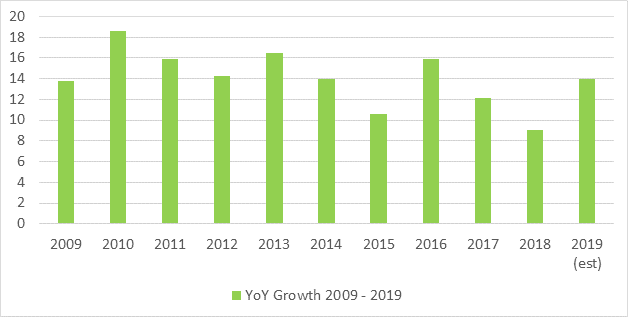 Bhavesh Unadkat, principal consultant in retail customer engagement, Capgemini: "2018 will be ultra competitive with continued uncertainty, retailers will therefore need to be focused on their plans to both survive and grow. One opportunity for growth and differentiation will come from emerging technology as we saw as a focus in 2017 – voice and social commerce, connected devices and AI all drove interest and investment and will continue to do so – the big challenge will remain as how to drive value and industrialising this capability. A second opportunity will be deepening relationships with customers and taking an insight driven approach to omni-channel retail – one which arguably remains a gap for many retailers across channels. Many have got it right across certain channels, however not across the whole customer experience across all channels. Finally, there is sometimes so much focus on technology and innovation we can forget retail basics – ensuring the product mix is right, availability is on point, the shop front is one to be proud of, and ensuring the team are well equipped to give customers the best service can be just as important. 2018 will be volatile but very exciting as we see the great retail industry again raise the bar!"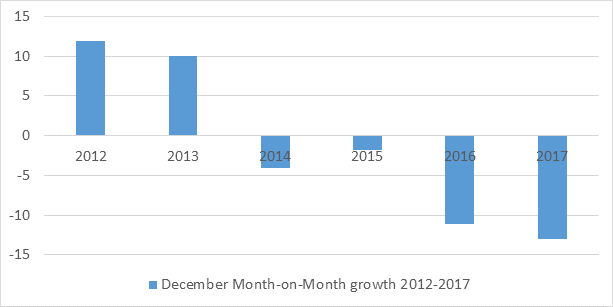 Justin Opie, managing director, IMRG: "A decline in the rate of online sales growth in 2017 was forecast, though it turned out to be sharper than expected. The macro economic factors – rising inflation, low wage growth, rise in the interest rate etc – are likely to have been influential and the first half of 2018 may be challenging too; discounting in the lead-up to Black Friday started deep into October in 2017 and have been widely available ever since. It may be that retailers will now find themselves caught in a cycle of discounting, which also happened in 2011 and 2015 and will probably extend long after the January sales, as the trading climate is tough at the moment. That said, 2018 does look set to be a transformational year for retail – with an increasing use of AI services anticipated plus the rise of 'browserless commerce' (through devices such as voice assistants). It may be that we see shopper behaviour shift significantly over the coming period."
Turning to the monthly view, December's YoY growth was 9.1% – representing the year's lowest YoY growth and reflecting the changing shape of Christmas shopping as sales are pulled forward into October and November by Black Friday. Further analysis shows that this trend has been ongoing since 2014 – coinciding with when Black Friday was adopted widely by UK retailers and consumers.
Source: IMRG