This festive season, M&S has teamed up with a treasured British icon to create a truly special Christmas – as Paddington is unveiled as the star of Marks & Spencer's Campaign for 2017, which will launch with the hashtag, #LoveTheBear.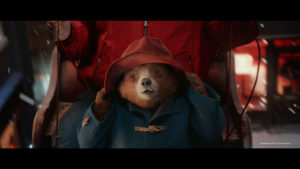 The timely tie up follows the star-studded World Premiere of STUDIOCANAL and Heyday Film's Paddington 2, with the family film going on general release on November 10.
The advert 'Paddington and the Christmas Visitor', created by Grey London, which aired  on November 7 is a festive, family focused tale that tells the story of how everyone's favourite bear, Paddington, unknowingly saves Christmas for his friends and neighbours.
Vicki Maguire, Chief Creative Officer at Grey London said, "Two British icons coming together in a story of heart-felt redemption, at a magical time of year, is the brief that dreams are made of. Customer expectations for Christmas campaigns are always high, and for M&S this has never been truer than now following the positive response to 'Spend it Well'. We cannot wait to see and hear the reaction as we spread the love, goodwill and marmalade this Christmas."
It's Christmas Eve at Windsor Gardens and Paddington is fast asleep. However, his dreams of marmalade are interrupted by a loud thud on the roof. Upon investigation, he stumbles upon a burglar and despite the burglar's protests that he is "not Santa" the determined and good-natured bear begins to 'help' him deliver the presents back to where they belong. Seeing the good in everyone, Paddington innocently helps the burglar see the error of his ways and as they place presents into personalised stockings and pause for mince pies, he unknowingly averts a crisis and ensures a truly special moment for neighbour Alice, and a happy Christmas for all.
In a first for M&S, the heart-warming story of the advert has been turned into a children's Christmas storybook available in stores and online for £3. All profits will be donated to the NSPCC to help fund its vital Childline service over the Christmas season. To launch the book, M&S will also host a series of book readings for children at stores around the UK – starting at its flagship Marble Arch store on November 10.
Dame Esther Rantzen, founder of the NSPCC's Childline said, "Christmas is an exciting time of year, but for some vulnerable children and young people it can be very difficult which is why Childline is there for them 365 days a year, 24 hours a day. This, of course, requires a great deal of funding, which is why we're delighted to be partnering with M&S and Paddington to support the Childline service and raise awareness of the work we do. At only £3, with all profits going to the NSPCC, the book is excellent value for money and the perfect Christmas gift."
The campaign retains the philosophy of M&S' 'Spend it Well' brand platform launched earlier this year – encouraging customers to focus on the people, experiences and things that matter to them most, something that is never more important than at Christmas.
Paddington, who is named after the famous area of London where M&S is also based, will take a lead role in helping the retailer create a series of special moments for its customers and the communities it serves through partnership activity.
Patrick Bousquet-Chavanne, Executive Director of Customer, Marketing at M&S.com said: "At M&S our customers are at the heart of everything we do and we know they love the magic of Christmas, most of all spending time with family and friends. Paddington has enchanted children and families all over the world for nearly 60 years which is why we couldn't turn down the chance to bring the wonderfully endearing, much-loved British character and his world into the heart of our Christmas campaign this year. We always want to surprise and delight our customers; the timing is perfect as we're partnering together just ahead of the release of Paddington 2."
Rob Weston, Brand & Marketing Director at M&S said: "Paddington injects the sense of joy, love and neighbourly spirit that makes Christmas feel magical and our story reflects the inclusive, make the most of every moment approach that we take to our customer conversations."
Partnership Activity
Cinema
M&S' media partner, Mindshare, have worked with Digital Cinema Media to ensure the 90 second advert is shown before the start of every screening of Paddington 2. M&S is also running dedicated screenings of the film for Sparks members and their children, as well as in the ten communities it's supporting through Plan A 2025.
In-store
For the first time M&S will host a dedicated campaign shop to support its Christmas advertising campaign. Bespoke signage will lead customers to The Paddington Shop – housing over 90 themed products, the majority in kidswear, and of course Paddington's favourite marmalade will be available in M&S Foodhalls. In another first, the iconic bear will be the first ever film character to star in the M&S Christmas windows.
In to December, M&S' team of in-store 'Moment Makers' will be surprising and delighting customers with Paddington-themed 'Random Acts of Kindness' – from a free marmalade sandwich in the café, to a cheeky Paddington chocolate at the till.
Online and Social
The retailer will bring Paddington's iconic character to life for customers in a fully integrated cross channel campaign. The much-loved bear will take part in his first ever interview for M&S' content hub Style & Living and there'll be downloadable festive marmalade recipes suitable for all the family. Underpinning the entire campaign will be social support encouraging customers to #LoveTheBear.
Source: Grey London