Qubit, the leaders in marketing personalisation technology, launched Qubit Aura, a product discovery solution for mobile web. The product has been built to help retail brands tackle a specifically mobile issue: while shoppers now spend equal time on mobile and desktop, the conversion rate for mobile is only half.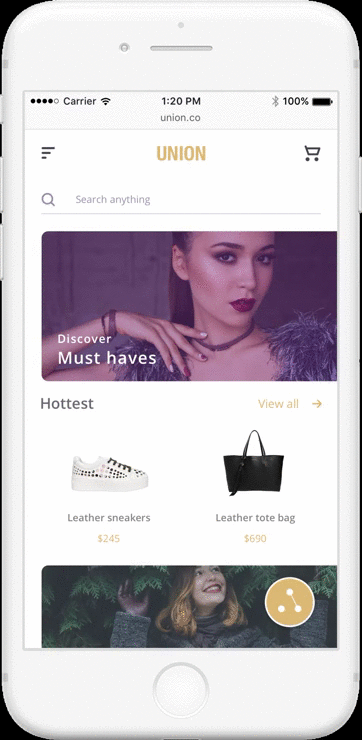 Qubit Aura sits on an existing mobile website and, through AI-powered personalisation, changes the products a user will see based on their behaviour. Qubit announced the exclusive beta for Qubit Aura in July, and have been working with twenty businesses, including Diane von Furstenberg, Wolf & Badger, and ColourPop, to make iterations to the product ahead of today's global launch.
"Personalisation starts with product discovery, and the results from our beta program prove that if you can increase product discoverability, you can increase your revenue," said Graham Cooke, CEO of Qubit. "Ecommerce companies can maintain relevance and differentiate from giants like Amazon with a focus on increased product discoverability. For businesses looking to be customer-centric with personalisation, Qubit Aura is a tangible, straightforward, quick to implement, and unique experience for every single visitor."
"Mobile is where we continue to see traffic growth, but in terms of revenue versus desktop it's not equal. Fifty percent of our traffic is nowhere near half of our revenue," said Felipe Araujo, Head of Ecommerce at Diane von Furstenberg. "The challenge for ecommerce brands is to bridge the discovery that happens on Instagram, and similar tools, and make this discovery phase become native and within our walls. Qubit Aura provides a seamless transition between discovery and shopping on mobile web, and we're delighted to see positive uplifts already."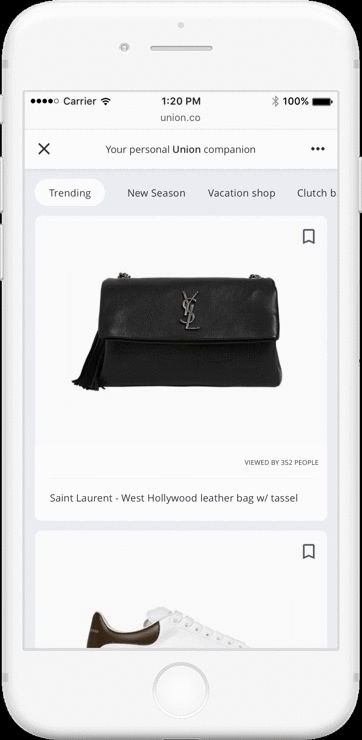 With multiple patents pending, the product is powered by Qubit's award winning personalisation platform. By tapping the Qubit Aura icon, users surface a layer over the existing mobile site, with the ability to seamlessly switch between discovery, browsing, and purchasing. The solution creates an integrated discovery environment which brings together a user's behaviour with programmatic experiences, like social proof and product recommendations.
Machine learning and event level data collection organises products based on every unique visitors' interests with a UX specifically developed to help overcome the limitations of a small screen. This means that, although two visitors start seeing the same experience, Qubit Aura quickly adapts, providing them with real-time individualised experiences based on their actions and predicted tastes.
Qubit have analysed data across 35 fashion and cosmetics brands since January 2017, and spotted trends in consumer behaviour when comparing desktop and mobile:
Traffic to each channel is about the same: 45.87% on desktop vs 44.7% on mobile
Conversion rates on desktop are more than double that of mobile: 3.35% on desktop vs. 1.61% on mobile
Revenue per visitor (RPV) is also more than double on desktop: £6.10 on desktop vs. £2.66 on mobile
The average number of products viewed per customer is far higher on desktop: 17.99 on desktop vs. 13.65 on mobile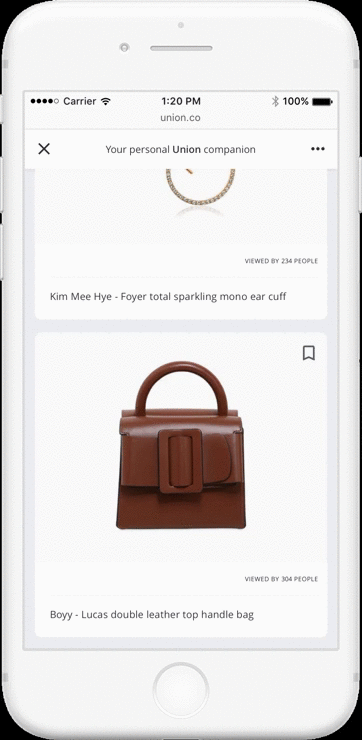 Currently, most customers use search or a traditional hamburger menu as the way to discover a brand's product catalog of thousands. Coupled with the small screen, brands face a real challenge when it comes to increasing the conversion rates and RPV in mobile, especially when traffic to each channel is the same. At the same time social networks, like Instagram and Pinterest, are extending their influence on the customer journey. These platforms are pursuing ecommerce strategies for future growth as consumers increasingly discover new product lines, and competitors, on these networks.
"We have over 30,000 products on our site, therefore discoverability is a challenge we're constantly working to improve," said Emily Cuthbert, Product Manager at Wolf & Badger. "With this mobile personalisation solution, Qubit directly addresses the problem, by giving users a personalised selection of products and categories from across our entire product catalogue, tailored exactly to the user. We're currently seeing conversion rate uplifts of 3.6% on mobile after the implementation of Qubit Aura."
"Qubit Aura is an industry-first which tackles the challenge of discoverability on mobile web," continued Cooke. "In the same way Netflix tailors the experience to each and every user based on their watching habits, and Spotify curates playlists for your listening habits, Qubit Aura does the same for ecommerce; no two experiences are the same. Mobile web is a much unloved, and under-utilised sales channel, but Qubit Aura puts it right back in focus. We're very excited to already be working with brands like ColourPop, Diane von Furstenburg, and Wolf & Badger, where Qubit Aura is already proving to be a true revenue driver for their business."
Source: Qubit