Can anyone imagine fans not being able to hug to celebrate a goal scored by their team? Taking this in mind, Naranja X, an Argentine fintech company with more than 5.5 million users, developed a 24-hour legal assistance service designed specifically for those who cannot suppress the urge to hug in public during the World Cup. The service includes providing legal assistance with local attorneys and covering potential fines for those whose passion for soccer overwhelms them.
Safe Hugs in Qatar.mp4 from Nicolás Pimentel on Vimeo.
The innovative product was masterminded by Becoming Mode, creative agency led by Nicolás Pimentel, and production company Nro3, in collaboration with Assist Card.
This year the World Cup has a great peculiarity: it takes place in a country where excessive expressions of affection in public can be punished. So, for the first time in history, what fans usually do when celebrating and accompanying their national team could lead to legal problems.
Considering the many attendees who're carried away by the emotion of the moment and may not even realize that they're violating certain cultural norms in Qatar, the fintech company has decided to offer fans a special product that's different from the classic travel assistance: the "Safe Hugs".
"Hugs have been a central part of our culture since the company's inception and have become part of Naranja X's DNA. Because friendship begins with a hug, this symbol is even represented by a giant sculpture in our offices. The thought that such an expression of affection could be punishable during a World Cup got us thinking and led us to develop this product," says Julieta López, Head of Brand at Naranja X.
"It's a pleasure to work with a brand that's such a strong sense of purpose and a constant desire to innovate. When we discovered this problem, Naranja X didn't hesitate for a second to create a real and concrete solution. At the same time, this product was an excellent communication pretext to come up with a different campaign for this World Cup, with the tone and humanity that characterizes the brand," says Nicolás Pimentel, Becoming Mode founder.
"This project was a production challenge from the beginning, because we'd to meet with Qatari lawyers and deal with the culture of this country to understand the real issue. Once the product was developed, another challenge began: producing this holistic campaign in record time," added Sonia Caputo, founder of Nro 3.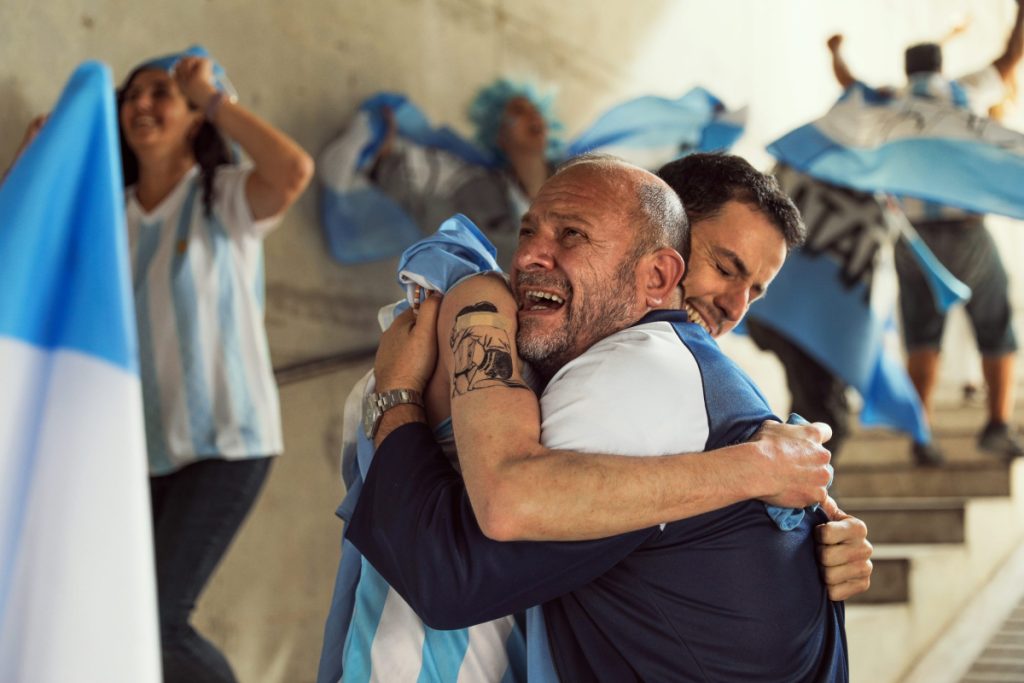 "Safe Hugs" is offered for US$ 10 per day and is firstly available in Argentina.

CREDITS:
Advertiser: Naranja X
Agency: Becoming Mode
Production house: Nro3
Title: "Safe Hugs"
General Director Becoming Mode: Nicolás Pimentel
Integral Executive Producer: Sonia Caputo
ECD: Coco Olivera / Joaquin Espagnol
Producers Nro3: Pelu Hernández and Pablo Anzoátegui
Production company (spot): ARGENTINACINE
Executive producer: Rosario Caprarulo / Diego Gonzalez
General producer: Nano Tidone
Producer: German Escande
Production coordinator: Natalia Barrios
DOP: Mex Ledesma
Pictures: Nicolás Kliczkowski
Editor: Juan Pablo Arrieta
Colour: Ale Lescano
Post production coordinator: Aldo Ferrari – Nacho Parodis
Sound: Big SoundAdvertiser' supervisors: Julieta López (Head of Branding), Diego Martínez (Content Strategist Expert), Angeles González Lobo (Brand Manager) y Laura Sturzenegger (Art Director Analyst).
Source: Becoming Mode