SAMBAZON, the brand leader in açaí and only certified organic and fair trade açaí company on the market, announces the return of the second annual #PurpleForThePlanet campaign.
The campaign reinforces SAMBAZON's commitment to protecting the environment and its rich biodiversity by saving 30 species in 30 days, one purple head at a time. Last year's campaign far surpassed its goal, saving hundreds of species in only 30 days.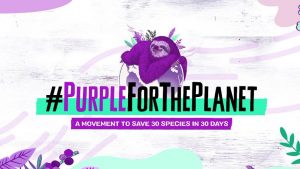 Launching on Earth Day (April 22nd), #PurpleForThePlanet challenges the public to color their hair purple and share their support for the cause on social media before the end of the campaign on World Biodiversity Day (May 22nd). For every person who participates, SAMBAZON will purchase five acres of rainforest through Rainforest Trust's Conservation Action Fund.
Additionally, SAMBAZON has partnered with their creative agency The Many and PR agency Stanton & Company to produce and execute the #PurpleForThePlanet campaign.
Also, oVertone Haircare, a 100% vegan and cruelty-free pigmented conditioner brand, is helping the tribe go purple without damaging strands. Throughout the campaign, oVertone will be offering 10% off all purple semi-permanent pigmented conditioners in support of the initiative.
#PurpleForThePlanet will run from Earth Day (April 22nd) through World Biodiversity Day (May 22nd).
Source: The Many