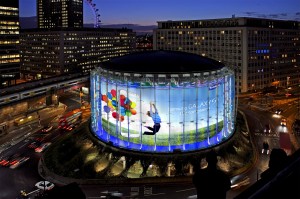 The marketing campaign for Samsung's Galaxy S4 is ramping up with the electronics manufacturer taking over London's IMAX cinema for a striking out-of-home stunt.
The takeover is the first of its kind for the brand and was organised through Cheil UK. Samsung's UK marketing campaign recently kicked off with the broadcast of the first of two TV adverts for the new smartphone model.
Avikar Jolly, head of brand and communications, Samsung UK & Ireland, said:
"The IMAX is London's most iconic OOH site, so it's fitting that Samsung is using it for the launch of the Galaxy S4. The execution is simple but all-encompassing, and we're expecting to deliver great cut-through."
Fiona FitzGibbon, head of out-of-home at Cheil UK, said: "The Galaxy S4 is at the cutting edge of technology, so we wanted to do something special to bring the product to life.
"To do this, we are putting Samsung's stamp on the largest and arguably most iconic site in the UK. By changing the colour of the bulbs to Samsung blue we hope to create comprehensive stand out."
The Carphone Warehouse started its marketing campaign for the Galaxy S4 last week by teaming up with Fonejacker.