New Hotels.com research reveals that one in ten millennials hope there's 'no room at the inn (laws)' so they don't have to stay the night. To get away from it all,15% are and 34% wish they were going on holiday over the festive period this year. To help them on their way, Hotels.com is offering 10% off bookings for Christmas Day with the code 'RoomAtTheInn'.
The research also showed that millennials are breaking with tradition, with 22% celebrating on a date aside from the 25th and almost one in five celebrating Christmas Day with friends (19%). This may be because three hours and 51 minutes of family time is all it takes to start driving them up the chimney and a mere three hours when it's their in-laws.
In the run-up to Christmas, it's '12 days of Friendsmas' for millennials with 79% planning festive activities with friends. 30% are cooking a Christmas dinner together, 24% are going to a Christmas market, 20% are doing a Secret Santa and 8% are going on a festive mini break.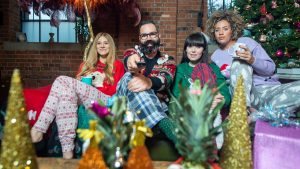 On the day they choose to celebrate Christmas, this year's activities will include watching TV and films (56%) – the top three are Home Alone, Elf and Home Alone 2 – going on social media (35%), playing board or card games (35%), taking s-elfies (21%), sending a Christmas message to social media followers (18%), having an afternoon sleep (17%) and online shopping in the Christmas sales (14%).
They aren't planning on getting too 'merry' with almost one in five millennials saying they won't drink on Christmas Day. And whilst they aren't keen to hit the Prosecco, they are a dab hand in the kitchen with 19% of millennials planning to host when it comes to the cooking. However, it won't be the turkey with all the trimmings as 46% are planning an alternative celebratory feast from a vegan dinner to a Christmas day pizza.
The Christmas outfit of the day will be a Christmas jumper (30%) followed by pyjamas (22%). Yule be sorry if you opt for a onesie as it's fallen out of festive fashion – only 4% of 21-38-year olds will be wearing one this year. It's all about sleighing the festive accessories – one in four are opting for festive nails (25%), more than one in ten a glitter beard (12%) with the same proportion the impressive bauble beard (12%), and 7% will be wearing festive knickers.
With all the new festive traditions, the original Nativity story seems to be lost in translation with only 16% of millennials confident they know the details. Shockingly, over a third don't know that Jesus (39%) Joseph and Mary (37%) or Angel Gabriel (49%) played a role. 6% even thought Santa Claus made an appearance! If the Nativity was happening today, one in ten think a unicorn would replace the donkey, 15% think the Wise Kings would be Wise Queens and 10% imagine that Angel Gabriel would appear to Mary via Instagram.
21-38 year olds think 2018 gifts from the Three Wise Kings (or Queens) would be an iPhone (22%), Netflix subscription (18%), Rose Gold jewellery (16%), Bitcoin (12%), selfie stick (10%), beard oil (8%), Uber vouchers (7%) and avocado on toast (7%).
Adam Jay, President of Hotels.com brand said: "We all love getting together with friends and family at Christmas, and everyone celebrates it differently. So, whatever the occasion – Friendsmas, quality time with the family or in-laws – there's always room at the inn at Hotels.com and you can get a reward night when you stay ten nights with Hotels.com Rewards."
Source:Â Hotels.com