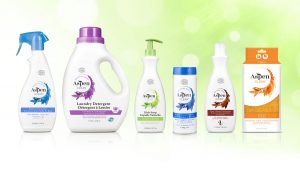 AspenClean is a home cleaning products and cleaning services brand in Canada and America.  The all-natural cleaning products are designed to help consumers avoid the health risks associated with toxic cleaning chemicals. Using only natural ingredients and organic essential oils, the products are highly effective at fighting dirt and stains on a variety of surfaces.
Slice Design was briefed to create a brand identity and packaging design for the full range of cleaning products. The objective of the project was to prepare the brand for retail in Canada and USA and also for international expansion.
The brief to the design experts was to create packaging designs that reflect the all-natural and environmentally friendly attributes of the brand and also position it as a premium product.
In addition, Slice had to consider the architecture of this extensive range which includes Kitchen, Bathroom and Glass cleaners and also Dish Soap, Laundry and Cloths. Their challenge was to consider how they incorporate category colours for the cleaning products but also how we differentiate the Dish Soap, Laundry and Cloth products and the variety of essential oil variants.
As well as designing the packaging Slice Design were also involved in designing the style of the website, the staff uniforms and the fleet of cars.
Alan Gilbody at Founder & Director at Slice Design Limited helped to explain some of the design features: "Environmentally friendly products tend to be perceived as less efficacious compared to the chemical-based competitors. AspenClean is different however.  In our designs we wanted to re-enforce the environmentally friendly attributes by introducing a sweep of leaves around the brand logo to highlight its ease of use and efficacy all around the home."
"It has been an amazing experience.  Although we have been in business for more than 10 years, it was our first time working with a professional branding agency.  It took us a while to decide, but both, the process and the results were well worth it. Slice's branding managed to communicate the strength and effectiveness, without compromising the green, environmental, aspect of AspenClean. We would highly recommend Slice for anyone looking to create or refresh their brand personality, and looking forward to working with them on future projects," said Alicia Sokolowski, President & Co-CEO at AspenClean.
Source: Slice Design