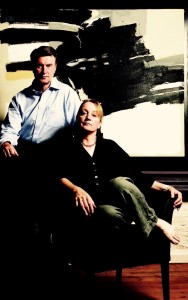 Smith & Milton founders Howard Milton and Jay Smith, together with the recently appointed group creative director Rob Wade, are heading the new management team at the brand consultancy they set up in 1980.
Milton and Smith will reshape the business toward its founding strength – outstanding creative thinking. Both remain board directors, with more than 35 years of brand knowledge and expertise both in a creative and commercial sense. Both will work across the Smith & Milton group's offices in London and Bristol.
The move comes as Milton appoints two new creative heads to reinforce the Smith & Milton team: Rob Wade joined last month as group creative director, while Keshi Bouri joins this month to lead as creative director of the Bristol business.
Wade bolsters Smith & Milton's senior management team and its strategic credentials. He brings global experience to the agency having spent the past two years at New York agency REA. His CV also includes time at Saatchi & Saatchi, Interbrand, Landor and Brand Union.
Bouri joins from his own branding agency 'Keshi', an agency he founded in 2010. Prior to this he was creative director at Dragon Rouge, London where he delivered collaborative campaigns for ING Retail Estate, and Visit London. Bouri has international experience, working in the UK, USA and UAE on global retail and digital brands including BP, O2, Royal Mint, Saint-Gobain and Swiss Re.

Of the new moves, Milton said: "We know what success looks like and we have the experience and wealth of knowledge, developed over 35 years that are incredibly valued by our clients. I have just spent four years on the Board of Governors at Falmouth University but picking up the day-to-day reins again is not only exciting for us, but for everyone, as we look to continue to grow the consultancy's quality of work and success the brand and customer experience.
"Building enduring brands runs through our business. That applies as much to our own company as it does to our clients'. We've invested energy into finding the best people for our senior creative roles. Both Wade and Bouri understand the commercial imperative everyone in business is driven by, and they will deliver single-minded, breakthrough creativity in their new roles."