Contemporary artist, Robi Walters, has been announced as Aston Martin's Artist-In-Residence at a 'defining period' in Aston Martin's history.
Infamous for creating beautifully re-worked collages from discarded materials, Walters boasts an extensive celebrity collectors list, including Thandie Newton, Usain Bolt and 2 Michelin starred chef, Tom Kerridge, for whom he recently created the restaurant artworks in the Corinthia hotel.
On his latest venture, Walters will work alongside Aston Martin's Vice President and Chief Creative Officer, Marek Reichman to push the boundaries once more, creating unique and innovative artworks from waste materials from the production process.
London-based post-production studio, Smoke & Mirrors, were tasked with unveiling the news in an unorthodox output-a short teaser film, devised and directed by Flame Artist, Sunil Rao.
Ambiguous from the outset, the film features abstract views of the much-anticipated Aston Martin DBS model under atmospheric lighting, before Walters' signature petal assets appear-subtly, at first-before blasting out of the exhaust and revealing the collaboration.
Sunil comments, "Having been in the industry for over twenty years, I've seen the flow of the industry change. Technology and the skills required to make an impact have progressed and we need to adapt in order to make unique ideas come to life".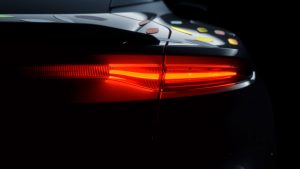 In order to create a film authentically representative of both Walters' work, and of course the DBS, Smoke & Mirrors CGI Artist, Luke Reade, first visited Walters' studio, then Aston Martin's showroom, to fully match the look and feel of both works of art.
"It took me a few days to optimise the car for the scene and add the relevant materials. I took it to a decent level of detail using references from the web. At this point, I was fortunate enough to visit one of Aston Martin's showrooms and get a much better idea of how the paintwork looked under certain light," says Luke.
Big Kahuna Sound Engineer, Scott Little, also visited the showroom in order to record true audio from the car itself.
Scott comments, "Collaborating with an artist as amazing as Robi and a brand as huge as Aston Martin has been very exciting. It's not every day you get full access and free reign to record the DBS. We took full advantage and it was a pleasure to complete the sound design, foley, and a touch of music for the film."
Walters adds that "Working with Smoke & Mirrors and Big Kahuna on the Aston Martin announcement teaser was an incredible experience. They handled everything from the concept to delivery. The sound alone literally blew me away!"
Source: Smoke & Mirrors