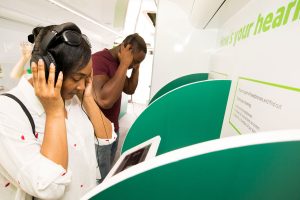 This summer, people across the UK will be able to take free preliminarily hearing checks as part of a Specsavers roadshow, which goes on tour during July and August.
Run by global brand experience agency Sense, the experiential campaign will raise awareness of the importance of having regular hearing checks, as well as encouraging dialogue around hearing loss to help normalise what is a very common problem.
"People will be welcomed onto the Specsavers bus, where they can undergo an assessment to see if they need to take a full check at their local branch," explained Sense Account Director Jess MacGillivray. "Visitors will also be able to experience what it's like to suffer from hearing loss through a special simulator and exclusive video guide."
Everyone taking a hearing check will get the chance to win a VIP ticket package for an upcoming major entertainment event.
Commenting on the campaign, David Legge, Marketing Manager at Specsavers, said: "Around one in six people in the UK experiences problems with their hearing, which can have a significant impact on their quality of life and relationships with family and friends. We want to draw attention to the importance of going for regular checks and protecting your hearing, as well as reducing the stigma of wearing hearing aids, which can transform the lives of people suffering from hearing loss."
The roadshow launched on 26 July in London, and will run for 22 days across the UK.
Source: Sense