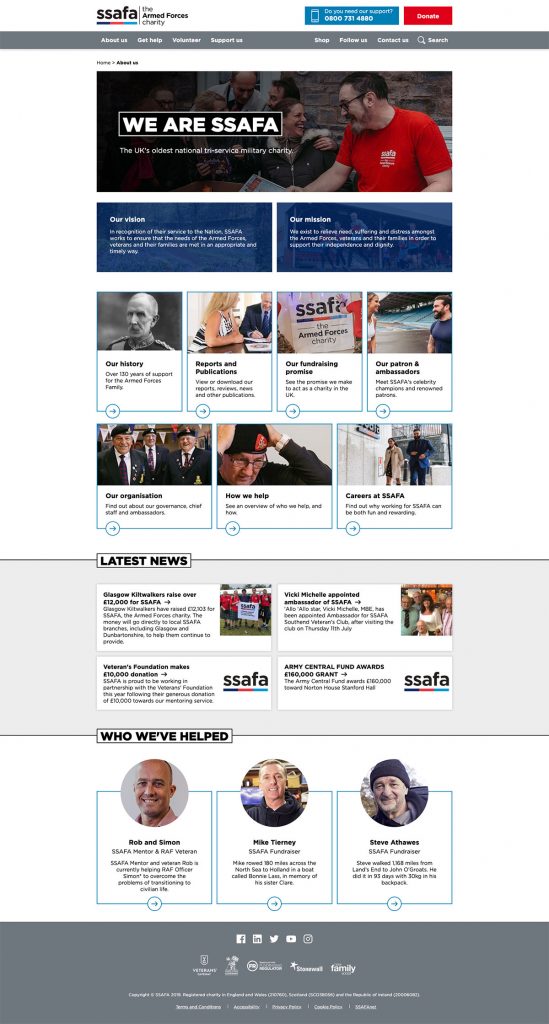 SSAFA, the Armed Forces charity which has been supporting serving personnel, veterans and their families since 1885, has just unveiled its new, user-led website.
The site, at www.ssafa.org.uk, has been built by strategic creative agency WPNC, as the charity seeks to boost its online presence through an ambitious digital transformation programme.
SSAFA is the oldest tri-services military charity in the UK. The organisation views the website as the key foundation stone for a wider digital push to raise awareness of its services – including those available locally – and boost support. The new version caters for a wide variety of audiences in an engaging and creative way.
Working with WPNC – which won the brief following a pitch earlier this year – SSAFA has made the new site more engaging and user-focused. The overhaul includes an improved look and feel, better and more accessible information, and easy-to-use functionality for all audiences, including contributors from local branches.
WPNC handled all aspects of the website, including UX, design and build. The agency built on existing insight to overhaul the user experience and information architecture of the site. It was developed on Umbraco CMS and integrates directly with SSAFA's CRM database, Progress, as well as WPNC's digital donation platform, goDonate. The site will continue to evolve during the next few years.
The organisation is keen to widen its donor base by engaging new supporters.  An ongoing need to broaden audience appeal means that ever-more creative and innovative solutions to raise funds are vital. Without these, tackling a range of complex issues faced by the Forces community would be impossible.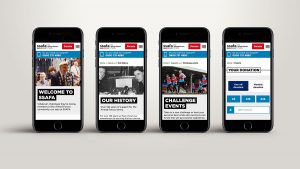 SSAFA is made up of a large network of volunteers with regional branches providing local support across the UK. As branches are largely independent, a microsite function has been built into the main site, where local volunteers can make and update their own pages, highlighting services, news, vacant roles and other information.
Vicky Reeves, Digital Managing Director at WPNC, said: "SSAFA is an amazing cause, and overhauling its website was a huge – and hugely important – task. We wanted to deliver a creative and inspiring digital experience that would engage their diverse audiences and share the charity's vital and life-changing work."
Justin Phillips, Head of Digital Marketing at SSAFA, the Armed Forces charity, added: "We are proud to be launching this new website, which is sector-leading and showcases the vital work that SSAFA carries out every day. As the public-facing first impression of the charity, it is essential that our website offers a seamless user experience while driving engagement and support for our work. It's been a pleasure to work with the team at WPNC to deliver this stage of SSAFA's digital transformation, and we are looking forward to continuing our relationship."
Source: WPNC