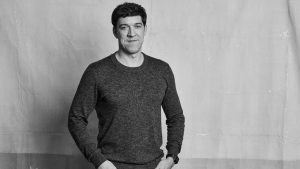 Design-driven creative agency, Standard Black, announced that they are welcoming a new Creative Director, Scott Niemczura, effective immediately.
Niemczura will be overseeing art direction and copy on projects across the agency portfolio. He joins a veteran creative team at Standard Black and will work alongside Partners / Executive Creative Directors, Eric Lobb and Jared Tomlinson.
"When the opportunity to join Standard Black presented itself, I didn't even have to think about it," said Niemczura. "I came up in big agencies, so I've seen far too many good ideas die under layers of approvals and process. It's really exciting to lose those layers and join a team where everybody just rolls up their sleeves and makes things happen. There's this great energy at Standard Black, a real confidence in the creative department that comes through in the work."
Niemczura is a 17+ year veteran of the advertising industry with experience in brand building, and has led creative transformations for a variety of brands including General Mills, JC Penney, Verizon and Under Armour.
Most recently, Scott has been doing freelance creative direction and has held positions as Group Creative Director at Grey and Creative Director at Saatchi & Saatchi New York. After graduation from the Columbus College of Art and Design with a BFA in Visual Communications, Advertising and Graphic Design, he was hired as an Art Director at Cramer-Krasselt.
"Scott and I have been talking about working together since we were in Art School, and through the work he has done for Standard Black as a freelancer, we're confident that his creative experience will benefit all of our clients," said Jared Tomlinson, Partner / Executive Creative Director at Standard Black. "Scott comes from a TV-heavy creative background, and we look forward to executing his vision of more filmed content for our clients."
Source: Standard Black