It's been 70 years since a British dignitary let alone British Royalty has visited in Israel. By Israeli standards this is a wonderful opportunity for celebration and an even better one for brands to give the young prince a royal welcome 'Israeli style'.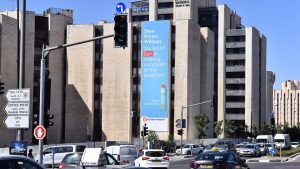 That is why , Israel's largest drugstore chain, working together with BBR Saatchi & Saatchi advertising bought up a huge billboard space at the entrance to Jerusalem along the Prince's schedule journey into the capital.
The billboard meant for the fair skinned and slightly balding young royal, tells him that the London sun is nothing compared to the scorching Israeli sun and kindly nudges the prince on to buy and apply Life Sunscreen.
But while the billboard's message seems mostly straightforward and innocent, it of course could not refrain from poking a little fun and derision at the "Sun" British Daily Newspaper known for grilling the royal family any occasion it gets.
Credits:
Client: Super-Pharm
Agency: BBR Saatchi & Saatchi
C.E.O: Yossi Lubaton
VP Clients: Ben Muskal
Chief of Creative: Idan Regev
Creative Director: Yair Zisser
Copywriter: Ronni Azulay, Ran Even
Art director : Ori Hasson
Clients Director: Noa Sharf
Account Supervisor: Shirley Tamar Konka
Studio ATL: Yaron Keinan, Chen Graisman
Publicis Media: Gilad Sterenberg
Source:Â BBR Saatchi & SaatchiÂ