In celebration of the 250th anniversary of the abolishment of censorship, Sweden, with the aid of the Swedish Tourist Association, will become the first nation to have its very own phone number and offer everyone the opportunity to learn more about the country by speaking directly to local Swedes.
The Swedish Number is now open to the world – anyone who calls the telephone number will be connected to a random Swede and have free reign to talk about anything from politics to polar bears. Using Swedish citizens as ambassadors to answer the calls, the Swedish Tourist Association is aiming to introduce people to the true culture, nature and mindset of Sweden.
"In troubled times, many countries try and limit communication between people, but we want to do just the opposite. So instead, we are making Sweden the first country in the world with its own phone number and giving our fellow Swedes the opportunity to answer the calls, express themselves and share their views, whatever they might be," said Magnus Ling, General Secretary & CEO of the Swedish Tourist Association.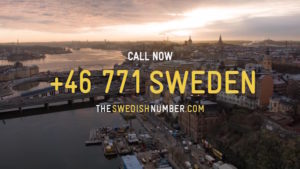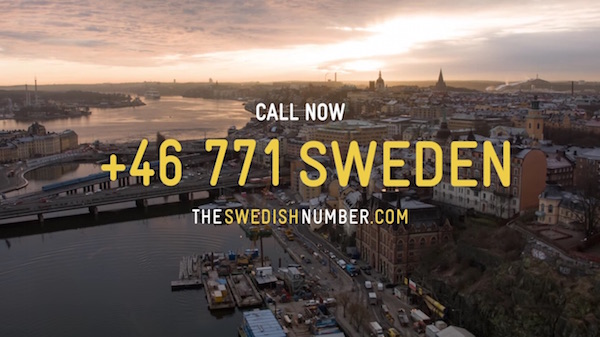 "In doing so we want to show the real Sweden – a unique country with the right of public access, sustainable tourism, and a rich cultural heritage. With The Swedish Number, our goal is to create more pride and knowledge about Sweden, both nationally and internationally."
To create The Swedish Number, the Swedish Tourist Association partnered with Intelcom, the leading provider of contact solutions, and creative agency INGO Stockholm, to create one of the largest switchboards in the world that supports incoming phone calls 24 hours a day, 7 days a week. Their cloud-based contact centre is used to register ambassadors and connect all calls. The switchboard is designed to randomly choose one of the Swede ambassadors for each call.
Over 18000 Swedes have signed on as ambassadors to take calls, and any local Swedish citizen can sign up to participate via TheSwedishNumber.com. They will then download The Swedish Number app, available through the App Store and Google Play, to answer the calls.