Taylors of Harrogate kicks off a £2M campaign on August 12, shining a spotlight on the genius invention of coffee bags. The multi-channel campaign 'Why didn't we think of them before?' will drive awareness and trial of this fuss-free way to enjoy proper coffee.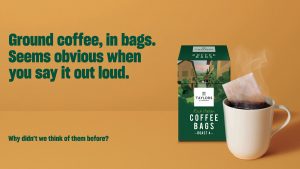 The campaign, created by agency Lucky Generals, leads with a brand-new TV ad, airing in 60, 30 and 10 second cut downs. They feature a number of comical scenarios where the idea of coffee bags was scuppered throughout history. For example, one man falls out of a train while trying to relay the idea, while another is constantly interrupted by a loud ship's fog horn. The execution ends with the message "Ground coffee, in bags. Why didn't we think of them before?"
The TV campaign will be supported by a range of shopper marketing, out of home, digital, PR and sampling activity at music festivals and train stations across the country this month, targeting consumers who prefer roast and ground coffee but sometimes have to compromise with instant coffee in the interest of convenience.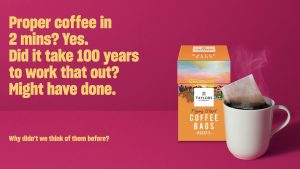 Since their launch in November 2016, Taylors of Harrogate has grown to the number one brand in coffee bags. This campaign follows a relaunch of the product. After over 18 months of product development, Taylors coffee bags are now available in a redesigned box with an optimised bag and a new blend in the range, Flying Start.
Kelly Wright, Senior Brand Manager for Taylors of Harrogate says: "Coffee bags are proof that consumers don't need to compromise to enjoy proper coffee, but not enough people know they exist. We're really excited to be championing Taylors coffee bags through this campaign, enlightening millions about this game changer of a product. We don't take ourselves too seriously at Taylors. This campaign is funny, disruptive and self-deprecating, asking the question we've been asking ourselves for almost three years. We hope everyone loves it as much as we do!"
Danny Brooke-Taylor, founder at Lucky Generals, says: "So often in life, the best solution to something is the one that's been staring you in the face from the very start. We're really proud of this campaign but why didn't we think of it before?"
Source: Lucky Generals