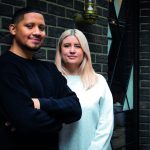 Creative shop The Corner, today announces two promotions in its senior leadership team as Lauren Gray is promoted into the Head of Production role and Theo Philips is now the agency's Head of Operations.
Having been at the agency for nearly five years, most recently as Joint Acting Head of Production, Philips' promotion to The Corner's first ever Head of Operations comes at a time of ambitious growth for the agency. Reporting directly into Founding Partner Neil Simpson, Philips will focus on developing the agency's internal systems, ensuring they operate smoothly to enable the whole team to grow rapidly and evolve to meet client needs.
As Head of Production, Gray will head up the production team as they increase the variety of creative solutions offered to clients. Production has always been at the very heart of The Corner and remains a huge priority for the agency. Gray has been at The Corner for six years, holding a number of production roles, most recently as Joint Acting Head of Production a role she shared with Philips. Reporting into Founding Partner Tom Ewart, she will ensure the flexible, yet functional running of the department. Gray's priority will be overseeing the fast-paced production of a high volume of top-quality content that keeps pace with client's demands.
Neil Simpson, Founding Partner says: "Both Lauren and Theo are longstanding, loyal members of The Corner team, and it's great to see them rewarded for their hard work and commitment as they move up in the agency. Lauren arrived at the agency as a Junior Producer and is now heading up the whole Production team. Similarly, Theo has worked his way up from a Senior Integrated Producer. It's a new challenge for them as they progress, and I know they will be crucial and committed to helping the team deliver on our wider strategic growth objectives."
Source: The Corner