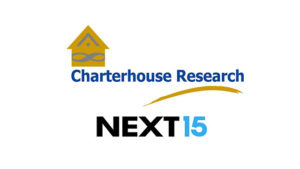 Specialist financial market research consultancy Charterhouse Research has been acquired by the Next15 Communications Group. The consultancy will form part of Next 15's expanding data and insights group, MIG Global (MIG), cementing a specialism in financial services research and bringing a broader offering to the Charterhouse client base.
Founded 13 years ago, the core team of Julie Irwin, Mark Dennis and Sara McFadzean will remain in place at Charterhouse Research, with Irwin continuing as managing director and Dennis and McFadzean as directors. Mervyn Flack will be stepping down from his former role as chairman.
Julie Irwin, managing director of Charterhouse commented: "We are extremely excited that Charterhouse has joined MIG and are confident that being part of the group will enable us to meet a wider range of the needs of our increasing client base in the financial services sector and further enhance our service offering. The whole Charterhouse team looks forward to working closely with the MIG Global team to develop our information collection and delivery solutions to extend our research services and multi-client surveys."
Paul Bath, COO of MIG, commented: "We are excited to be welcoming Charterhouse into the MIG family. With a complementary offering led by an experienced team of market experts, Charterhouse brings both new talent and greater client opportunities in the financial services sector. We look forward to working together with the team and leveraging MIG's data platforms to give the Charterhouse consultants more tools to deliver greater actionable insights to their clients."
Tim Dyson, CEO of Next 15, added: "Next 15 is committed to building a deep data and insight capability at its core. Charterhouse is an important step in that strategy, significantly enhancing our financial services offering. The combination of MIG's technology driven consultancy and data offering with Charterhouse, a leading specialist in financial market research, will help drive deeper and more actionable insights to the financial services industry."
The acquisition continues a focus on data and tech insight capabilities by Next15 as, through MIG, it continues to build a Group of best-in-class specialist research agencies, equipping them with cutting edge tools and the resources of the international parent company.
Source: Next15