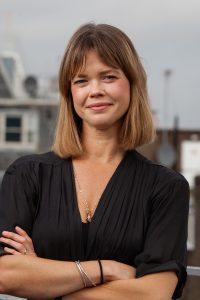 Emily Harlock, the Head of Strategy at AMV BBDO is to join The&Partnership London as their Chief Strategy Officer. The role will see Harlock providing strategic support across all clients and new business.
Sarah Golding, CEO, The&Partnership, UK said "The&Partnership is really motoring this year. Having Emily join us as London's CSO will make us go even further even faster. I couldn't be more thrilled to have her as part of the team"
Starting out in advertising as a Graduate Fellow at Ogilvy & Mather in 2004, Harlock graduated from the University of Birmingham with a joint honours' BA in French and Hispanic studies. In 2007 she joined AMV as a planner, promoted to Strategy Director in 2011 and then taking the helm as Head of Strategy in 2016, managing a team of over 30 people, a key member of the agency's core management team and a part of the Omnicom global leadership team.
"The&Partnership is flying with real momentum and has shown itself to be a true innovator in the industry. It has smashed through agency boundaries and recognised early the power of getting the right people around a problem to solve it with creativity. On top of that, I love the down to earth culture of the place and everyone I've met there – and being a fellow northerner, the spirit and determination of Goldie. I couldn't be more excited." Said Emily Harlock, CSO, The&Partnership, London
Driven by big ideas that push boundaries and genuinely create change for brands, Harlock has helped shaped the fortunes for clients such as Twinings, Bird's Eye, the UK government, Sainsbury's, The Economist, Virgin Atlantic, Dove, Maltesers and Cancer Research UK. Harlock prides herself at getting to the heart of a problem and then finding simple and creative ways to solve them. A multi-APG award winner, Harlock has also picked up metal at Cannes Lions and The Effies; and is part of the Marketing Academy alumni, where she also mentors.
Sarah Douglas, CEO, AMV BBDO said "Emily is a warm and wonderful human. That rarest of blends of passion and smarts with a side order of fierce warrior woman topped with a sprinkling of outstandingly GSOH. She flies the nest with all our very best love."
Harlock's appointment is effective from January, she will report into UK CEO, Sarah Golding.
Source: The&Partnership