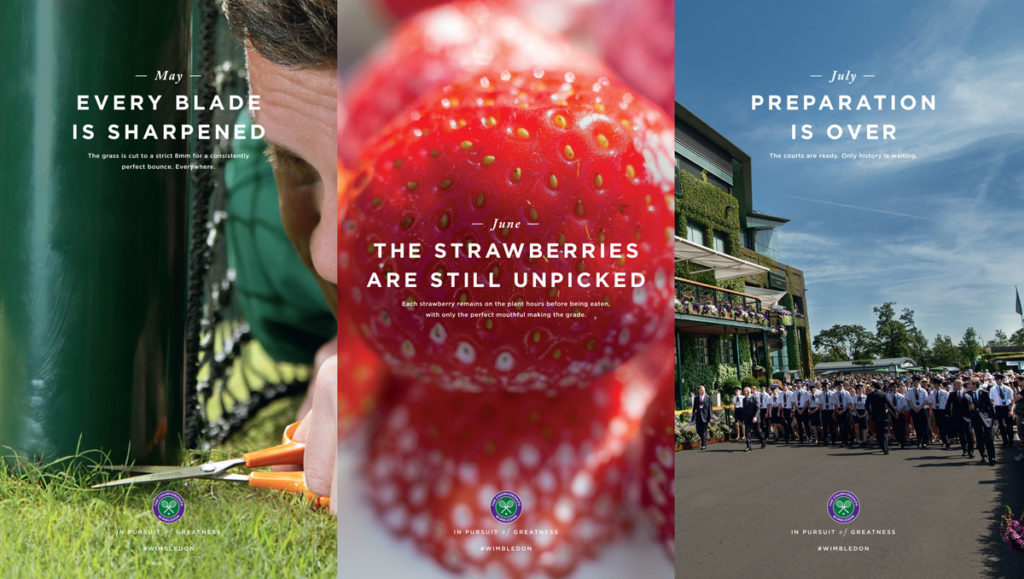 Considering sell-out crowds every year and 2016's annual profit of £42m, the most famous tennis tournament in the world hardly needs an introduction. But inline with Wimbledon's 140th anniversary, the All England Lawn Tennis Club (AELTC) have unveiled a new digital strategy to expand their global fan base.
Enhancements to their digital platforms and the introduction of live 360º cameras aside, they have launched Wimbledon's very first brand campaign entitled 'In Pursuit of Greatness'.
At the heart of this campaign is a stunning set of brand films showcasing the tournament's continued quest for improvement and exacting standards. From the 'all-white rule' and vast data collection, to picking the perfect plump strawberry, each short film provides a macro view of what makes Wimbledon exceptionally unique.
Running online and through social channels, the film's 'big screen' creativity and production qualities bring an unequivocal visible justice to the campaign.
In a recent BBC interview, Mick Desmond, AELTC Commercial & Media Director said:
"Our brand is the most important thing we have, we need to nurture and develop it. The more we can drive our content and brand…the more we can grow our audience….and that can ultimately only help us commercially."
Dare I say it, but in the wrong hands these films could've been quite bland. However, the cinematic ingredients – dramatic voiceovers, emotive soundtracks, and wonderfully choreographed stop frame animation – all fuse together in a way that seduces the audience and leaves us craving the next aesthetic episode.
Whilst watching the films it occurred to me that brands can, and should, take a leaf out of Wimbledon's book. Like many brands, Wimbledon is committed to raising it's standards and this series of films goes an extremely long way towards that.
So what can brands learn from the campaign? Here are my top three take aways…
1: Embrace Film
No other medium would've done justice to the stories of the tournament. The films not only reflect the brand, but perhaps more importantly, this cinematic approach embodies the behaviour and values of the tournament. Marketers should never underestimate the role that emotive storytelling films play in the marketing mix. It's the difference between turning off an InjuryLawers4U ad, versus happily anticipating a John Lewis Christmas campaign.
2: Go Macro
The devil is in the detail in these films. Some marketing content falls foul of being too broad. Focus in on what makes your brand special. These cinematic beauties prove that a brand's minutiae can demonstrate your values, beliefs and dedication to the all-important fan…aka the customer.
3: Produce a Series
In the quest for your audience's attention, give them more than one video. To be more precise, give them a reason to keep watching. Is your audience going to remember you, your brand and your message based upon one video? I doubt it. 'Content' is plural not singular. And attention spans are defined by the quality (and quantity) of said content.
Finally, in the very same BBC interview I mentioned earlier, Mick Desmond said "We are not complacent about what we are doing with our media and digital assets".
I certainly raise a glass of Pimms to that!
Article by Barry Richardson, Co-Founder & Creative Director at Rapture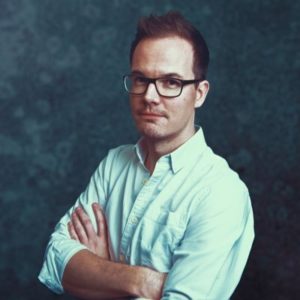 About Barry:
Barry Richardson is the co-founder and Creative Director at Rapture – a creative film production company for the storytelling era.
He has held Creative Director roles at advertising, marketing and digital agencies with a portfolio spanning augmented and virtual reality app experiences, 360º video, traditional film and marketing content.
Source: Rapture Film