New quarterly updates to ECI's Media Inflation Report provides advertisers will up-to-date and accurate information on which to base media investment decisions
ECI Media Management has decided to publish quarterly updates to its Media Inflation Report, to provide advertisers with the most up-to-date and accurate information on which to base media investment decisions, which is even more important given today's economic volatility.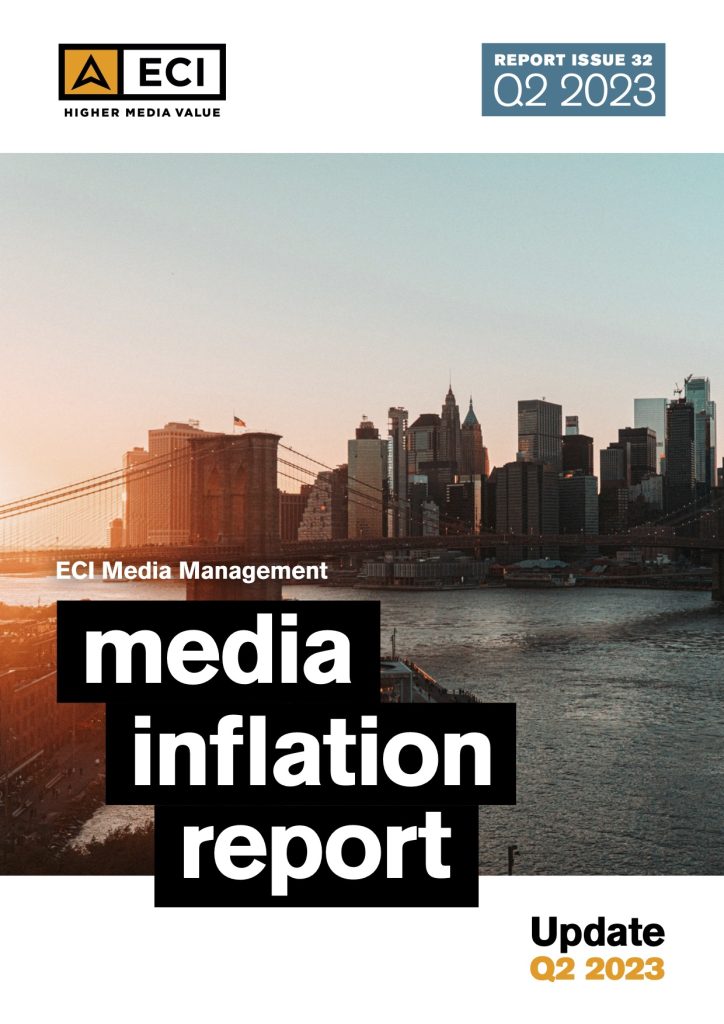 The update, focuses on ten key markets globally – the US, the UK, Germany, France, Spain, Italy, China, South Korea, Australia and Mexico, providing updated inflation forecasts for seven media types in 2023, and ECI's analysis of any changes that have occurred.
One of the key updates is that TV pricing in the US is forecast to deflate by 2% in 2023, a fairly radical change compared to the Q1 report, in which ECI forecast that TV pricing would inflate by 6.6%.
Many countries enjoyed economic growth in 2022: consumer confidence had returned following the pandemic, and businesses were responding by hiring additional people and ramping up business activities, including marketing. But the bubble has now burst: with rising inflation, interest rates and the cost-of-living skyrocketing in many countries, consumers are tightening their belts and businesses are following suit. Marketing budgets are being slashed again and many companies have had to make significant layoffs.
Media pricing has reflected the changing situation, with inflation slowing in many markets thanks to decreased demand as marketers scrutinise their budgets. Nowhere is this truer than in the US, where we are forecasting that TV pricing will deflate by 2% in 2023. This is a fairly radical change compared to our Q1 report, in which we forecast that TV pricing would inflate by 6.6%.
There are several factors at play here: economic factors including banking volatility and the government's debt ceiling issues stoking recession fears; corporate budget cuts and strategy shifts; and the WGA strike, which will impact on TV programming, particularly if it is prolonged. NFL games will help offset the declines that TV vendors will suffer, but not enough to keep pricing inflationary. Thanks to the strike, many networks are already pushing back program releases, and advertisers and agencies will opt for flexibility, e.g. scatter, Online and programmatically-purchased CTV, over upfront commitments. It goes without saying that this decrease in TV pricing will offer welcome opportunities for advertisers who are navigating stormy economic waters.
In the US, the key update is that TV is expected to fall into deflationary territory. This is largely down to the economic context and the ongoing industrial action by the Writers Guild of America; there is likely to be a short-term contraction in premium scripted content, with the scatter market taking the heaviest hit. NFL. NBA and NHL events will help pull pricing up. OOH and radio are expected to hold steady thanks to an increased number of employees returning to the office, increasing drive time and road traffic. Online Video increase is experiencing significant growth in part due to the proliferation of AVOD services; the fragmentation of CTV is allowing for more precision marketing.
In the UK, TV inflation is forecast to continue its downward trend, the result of a drop in revenue year on year and a slowdown in the decline in audience viewership. OOH should see a bump thanks to increasing revenue, with two-thirds of the medium now digital. Radio inflation will remain consistent with 2022 estimates, although price increases are expected from both Bauer and News Broadcasting.
Fredrik Kinge, Global CEO of ECI Media Management, comments:
"It is our hope that, armed with these insights, advertisers will feel confident in their ability to not just survive the current situation, but to capitalize on the rapidly-changing media landscape and economy context in order to drive higher media value for their brands."
View and download the report here: https://www.ecimediamanagement.com/media_inflation_update_q2_2023/
Source: ECI Media Management