Ushering in a new era for John Lobb
Step inside John Lobb's headquarters on 9 St James's Street and you'll find a shop steeped in history, with shoes and boots to suit those with a taste for tradition and luxury. This iconic brand has masterfully handmade bespoke footwear across three centuries for the likes of King Edward VII, Frank Sinatra, and Jackie Onassis to name a few. Now run by the 5th generation of the Lobb family, the business remains true to the founder's vision: beautifully handcrafted footwear as unique as its owner. 
But with a shift in recent years towards ready-to-wear, bespoke footwear seems to have dropped off the radar of some buyers. And with an emerging younger luxury demographic, John Lobb knew they had to modernise and adjust to new customer dynamics. Additionally, with the pandemic shutting down storefronts and accelerating digitisation, John Lobb wanted to embrace new ways of communicating and engaging with the next generation of luxury shoppers. At the same time, building on their all-important 170 year heritage was vital to their brand and existing customers.
To adapt to this new era of luxury, John Lobb partnered with Yonder to clearly articulate their brand positioning and go-to-market strategy before launching a refreshed brand identity, e-commerce website and social media presence. By embracing digital capabilities, and telling their brand story online, John Lobb has demonstrated how a luxury brand can showcase and retain their heritage, at the same time as engaging with new audiences and younger consumers.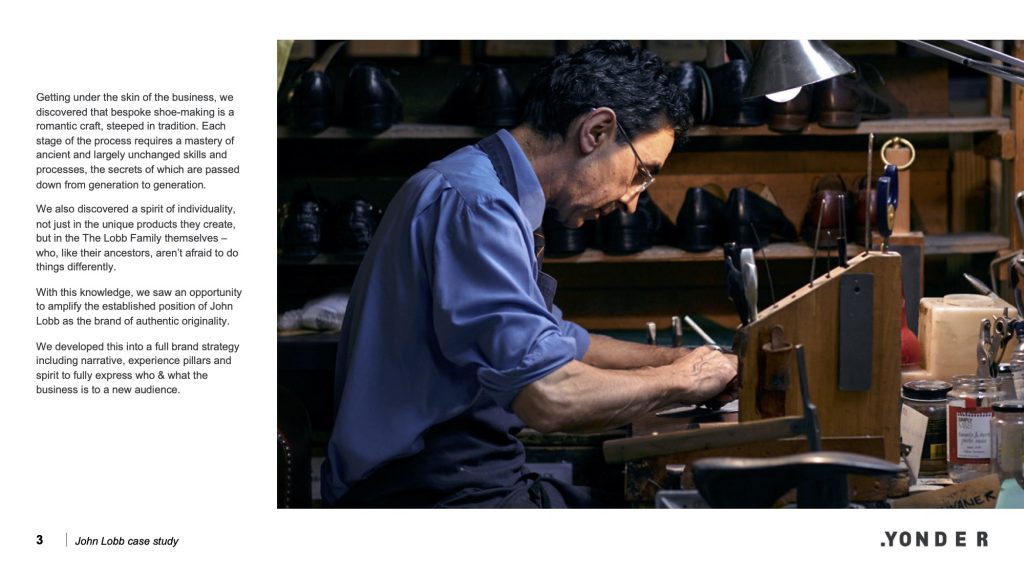 Meet the new luxury customer
The luxury market has radically changed over the years, and is expected to continue to evolve with a new luxury customer dominating. With Gen Z (born between 1997-present) amassing more wealth at a younger age than previous generations and Millennials (born between 1981-1996) now reaching their financial stability, those holding the purse strings have changed. Combined, the groups comprise over 30% of luxury spend worldwide. And with their different interests and consumer behaviour, the new luxury customer has forced brands to adjust to modernised ways of connecting. 
For the luxury sector, drivers of purchasing decisions differ across generations. For Gen Z and Millennials, brands that emanate authenticity and high quality will make the most impact. These consumers are more concerned with sustainability and uniqueness than their predecessors, which is a big win for exclusive British heritage brands like John Lobb who specialise in one-of-a-kind creations, made from only the highest quality sustainable materials. 
Aside from why they shop, to appeal to the next generation it's also important to adapt to how they shop. Digitisation has long been on the radar, and it's no secret that in recent times online shopping has rocketed particularly across younger generations. And with the Covid pandemic shutting down shops during lockdowns, e-commerce has now become essential to businesses. Further, with international travel at a standstill, the pressure is on luxury brands to re-engage with their out-of-town customers, whose shopping trip on St James's Street was once a staple of their London visit.   
E-commerce opens the door to the global marketplace, presenting an opportunity for brands to maximise their customer base. For the luxury sector, a large draw is the experience of in-person shopping, so there is a balance to strike, to recreate the magic of the shop floor in a virtual environment.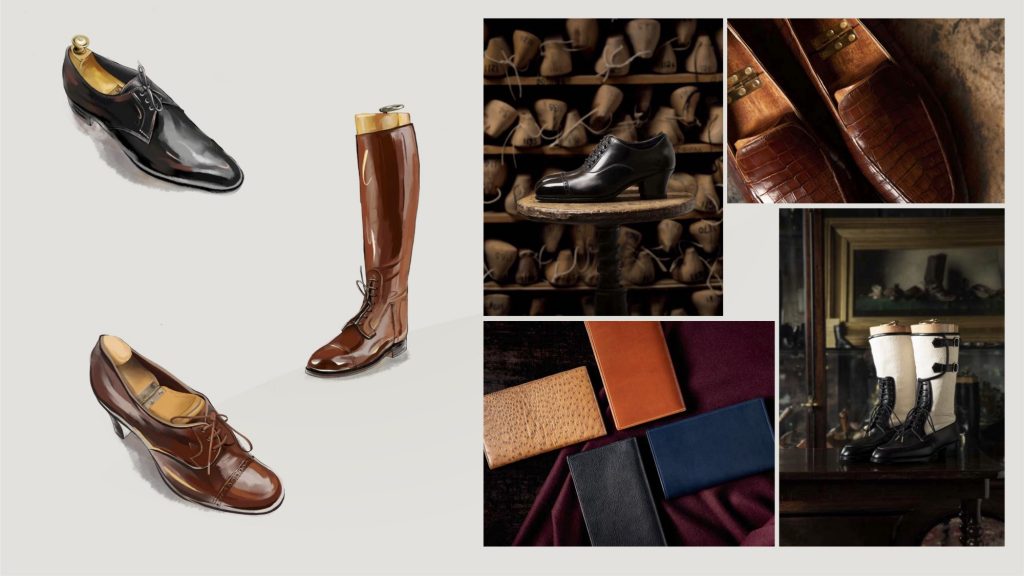 Reinventing John Lobb
The John Lobb brand refresh started at 9 St James's Street where Yonder's creative team discovered the romantic craft of shoemaking. Each stage of the process requires a mastery of ancient and largely unchanged skills and processes, the secrets of which are passed down from generation to generation. Here, a spirit of individuality and uniqueness is cultivated which served as inspiration for amplifying the brand's established position as one of authentic originality.
To capture the spirit of John Lobb within the brand, four key elements were introduced to its visual and verbal identity. As the beating heart of the brand, the St James's shop played a role in the visual identity with elements of its facade incorporated into the refreshed logo and new website. The family history and heritage was brought into focus through with the choice of Lobb's famous burgundy colour to represent warmth and richness. As a nod to Eric Lobb, a third-generation member of the family, burgundy was also chosen as it was his favourite colour. In addition, a new tone of voice was distilled through examining correspondence spanning 170 years penned by the Lobb family. Finally, a suite of bespoke illustrations inspired by the very first John Lobb catalogue denote the handcrafted nature of their products.
To connect with the next generation of shoppers, the refreshed brand was launched alongside a new e-commerce site, the brand's virtual store. To further engage with their digital audience, the John Lobb Instagram account has launched to reach new audiences and allow the world to fall in the love with the gentle art and beauty of shoemaking.
Commenting on their refreshed brand Nicholas Lobb, fifth generation John Lobb, said:
"We know that to best serve the needs of our customers in an ever-changing luxury sector, evolution is necessary. By partnering with Yonder, we've been able to bring 9 St James's Street online, opening our shop doors to new customers. We're delighted with our refreshed brand identity which really showcases our heritage and uniqueness in parallel to connecting with new audiences online."    
Manfred Abraham, Co-CEO of Yonder added: 
"This is a really exciting time for John Lobb and we were thrilled to collaborate with them as they embrace the new realities of the luxury sector. Getting under the skin of their business and discovering what makes John Lobb so special is a privilege. We're really looking forward to how their customers respond and watching as they continue to stand-out in today's evolving marketplace." 
Source: Yonder