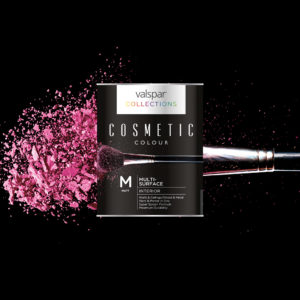 Paint brand Valspar launched its 'Collections' range, five new themed colour collections aiming to inspire customers to choose their perfect paint colour solution. Valspar partnered with strategic brand design and innovation agency Webb deVlam on the project, who identified key visual trends through extensive research. The agency then worked closely with Valspar to create and design the assets for the five curated collections: 'Out of this World', 'The Bookcase', 'Cosmetic Colour', 'POP Inspired by Pantone' and 'Pastels Inspired by Pantone.
'Out of this World' is inspired by space and the cosmos; 'Cosmetic Colour' is based on the world of beauty; 'The Bookcase' has echoes of heritage publishing design; and ''Inspired by Pantone' is a partnership with the iconic colour matching corporation of the same name. The themes were developed as a result of research into what inspires people when it comes to colour, interior design and home décor.
Valspar provides a specialist colour mixing service exclusively in B&Q stores in the UK, where customers can choose from over 2,000 colours or have an item colour matched and mixed by colour experts at the in-store Colour Mixing Centre. The new 'Collections' range aims to create a number of distinctive on-trend colour palettes which are focused on inspiring consumers to shop paint in a completely unique way. Webb deVlam has also designed exclusive cans for each collection and point of sales units in keeping with each theme.
May Tanna, Senior Marketing Manager for Valspar Europe, comments: "The new Valspar Collections offer a range targeted to everyone, whether it's being inspired from your favourite look off of the Catwalk in 'Cosmetic Colours', or by the heritage colours found in "The Bookcase", these curated palettes provide perfect inspiration for our consumers.
"Webb deVlam has been instrumental in helping us uncover what drives consumers, and turn this into a design strategy which both heroes our brand and provides a valuable service to our customers, encouraging them to appreciate our products and shop across our range."
John-Paul Hunter, Creative Director at Webb deVlam, adds: "We started developing the insights for this project some time ago in order to ensure the visual trends we were forecasting were spot on and reflected customers' true inspirations. The visual areas that we developed were so rich that then executing against them came naturally. It's great to see the 'Collections' offer come to life in-store and to be able help inspire people to have fun expressing themselves through colour."
These initial colour groups represent the first incarnation of the 'Collections' concept and Valspar intends to develop new ranges in the future, as further trends emerge and other brand partnerships develop.
Webb deVlam has worked for Valspar in the US for more than ten years, and in the UK since the brand's arrival in B&Q stores in 2012.