VaynerMedia London has created a new campaign for UNICEF to support the global fight against Covid-19.
The global campaign framework and toolkit, including a powerful look and feel design system, will run on UNICEF's digital channels globally and is offered to corporate partners and foundations who fund and support these critical efforts. The media assets consist of a hero film and supporting assets – featuring The Chemical Brothers' Galvanize soundtrack – that will serve as an anthem for colleagues, partners and volunteers working to bring the pandemic under control and galvanize support from people across the globe.
Sharing the message 'it's not over for anyone until it's over for everyone', the campaign is a rallying cry to support UNICEF's ambitious target of urgently delivering more than two billion COVID-19 vaccines globally to ensure fair, equitable and affordable distribution worldwide. As the key delivery partner for the COVAX Facility – which is co-led by the Coalition for Epidemic Preparedness Innovations (CEPI), Gavi and the World Health Organization (WHO) – UNICEF is leveraging its experience of vaccinating nearly half the world's children yearly to lead procurement, freight, logistics and delivery for the largest and fastest immunisation effort in history. UNICEF also supports low- and middle-income countries to roll out COVID-19 vaccines that countries have procured through other methods.
UNICEF's donors and partners are providing vital support in helping supply COVID-19 diagnostics, vaccines, treatments and therapeutics including PPE and oxygen to those who need it most, in more than 130 countries globally. This is in addition to the life-saving work UNICEF does for children.
This is the latest campaign in VaynerMedia's long-standing work with UNICEF and will launch in early December across UNICEF's website and social media channels.
Becky McOwen-Banks, Executive creative director said: "We are honoured to have such a great working relationship with UNICEF and to continue delivering powerful campaigns for the brilliant work it does. This campaign was a stark reminder that we are all interconnected and have a shared duty to ensure all nations are supported. This campaign aims to empower everyone to be part of the solution in a memorable, compelling way. Implementing an impactful visual style, across a multitude of global assets, to inspire everyone everywhere to join this important effort to vaccinate the world."
VaynerMedia London has a long-standing relationship with UNICEF and has delivered several campaigns including "Together we make better worlds" for World Refugee Day 2020, "Waiting" for World Immunization Week 2020 and "Reimagine – Gaming", which included UNICEF's mini video game "Unlock Their Potential".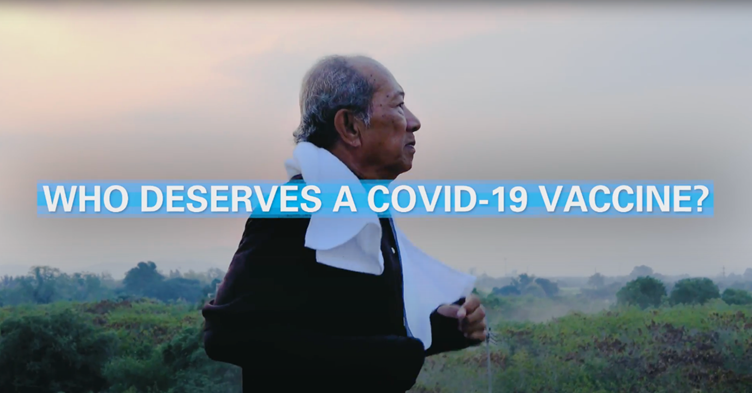 "In the race to end the pandemic, there are no winners and no losers – we will either all win, or we will all lose." said Joanna Souza, Global Purpose Marketing lead at UNICEF. "With variants continuing to pose a threat, the fastest way out of this pandemic is to ensure that we protect frontline workers and vulnerable populations urgently, and that there is fair and fast access to vaccines everywhere. This campaign offers a way for everyone to join the race to end the pandemic," she added.
"We are excited to launch the campaign VaynerMedia London has delivered, which really taps into the values and aspirations we share with our target audiences. It was important for us that this campaign came across as hopeful, yet bold, and that it didn't shy away from the challenges that exist in ending the pandemic, which VaynerMedia accomplished brilliantly. We have developed a strong and collaborative partnership with VaynerMedia and we are confident that this campaign will hit home with empathy and clarity. We look forward to galvanizing support from people and partners across the globe."
Source: VaynerMedia London