To celebrate Canon's sponsorship of Rugby World Cup 2019, taking place in Japan from 20th September, VCCP have created a campaign called 'History in the Taking' – which brings together the world's greatest International rugby players who make history, and the world-class sporting photographers who capture it.
The campaign brings to life the huge role photographers and their images have played in immortalising some of the Rugby World Cup's most iconic moments, told through a series of films – each features a celebrated player reflecting on a Rugby World Cup 2019 moment, with the Canon photographer who captured it.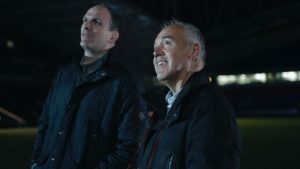 Famous moments featured include ex-England captain Martin Johnson lifting the 2003 trophy, French player Philippe Bernat-Salles' famous 'bird' celebration after his winning try against New Zealand in 1999, and a combination of majestic photographs captured during the career of Italy's current captain Sergio Parisse.
While it's commonplace for sports stars to speak about their career defining moments, this is the first time we have seen them in conversation with the photographers who preserved them in sporting history.
Each film will be released in the stars' local language, with England's Martin Johnson and photographer Dave Rogers, Philippe Bernat-Salles and photographer Jean-Marc Pochat for France, and Sergio Parisse featuring alongside Sebastiano Pessina representing Italy.
These atmospheric films see the photographer invite the rugby legend back to an international stadium where they reveal the iconic image that links them, printed on a huge scale and hanging between the rugby posts. We see the players' reaction before they both talk candidly about their own memories of the moment and what it means to their career.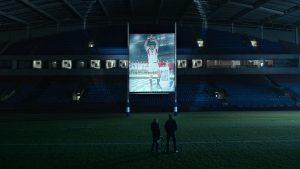 The two-minute films form part of Canon Europe's fully-integrated Rugby World Cup 2019™ sponsorship campaign, which spans across social, digital, print, online and in-store across Europe. The campaign also includes a competition offering customers a chance to win a holiday to the Rugby World Cup winning nation, when they register a recent Canon purchase via the Canon website.
Susie Donaldson, European Marketing Director at Canon, said: "We are extremely proud to sponsor the 2019 Rugby World Cup and reconnect three world-class rugby players with the Canon photographers who captured each legendary moment. The films showcase our rich sporting heritage and the passion and hard work of those both in-front of and behind the camera."
David Masterman, Creative Director at VCCP, added: "Many of the most iconic sporting images have been captured with a Canon. We thought it was time to bring together the athletes who make history and the photographers who take history."
Source: VCCP