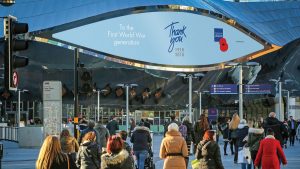 VCCP Media has negotiated a special campaign with outdoor media owners to mark the two-minute silence on Remembrance Sunday on 11th November. This year Remembrance Sunday falls on the centenary of the end of the First World War.
For the first time ever, VCCP Media has arranged for c.100 digital sites across England to feature The Royal British Legion's 'Thank You' campaign at the eleventh hour, on the eleventh day of the eleventh month.
This year's campaign, created by Leagas Delaney, says 'Thank You' to the men, women and children that made up the truly inspiring First World War generation, both on the front line and on the Home Front.
Currently running alongside the Poppy Appeal, the Legion's 'Thank You' movement recognises the sacrifices made by an entire generation. Their incredible legacy includes not just ground-breaking social change and timeless works of art, but also pioneering innovations in medicine and technology such as parachutes and prosthetics.
At 11am on 11th November, the multiple sites across England will all feature a simple 'Thank You' message for 2 minutes, something only made possible through the introduction of digital to OOH.
This space and time has been donated free of charge to The Royal British Legion's campaign by 6 businesses being 8 Outdoor, OutdoorPlus, Clear Channel, Elonex, Maxx Media and Ocean Outdoor.
Sites usually host up to 6 advertisers a minute. VCCP Media together with the outdoor contractors felt strongly about aligning their numerous sites and joining forces to express their thanks, strengthening the campaign which this year marks the centenary of the end of the First World War.
Catherine Davies, Head of Remembrance at The Royal British Legion, said: "We are very grateful to VCCP Media and the outdoor companies for helping us to thank the entire First World War generation who served, sacrificed and changed our world."
VCCP Media's COO Tara Marus added: "It seemed only fitting that we should approach the OOH media owners currently running the "Thank You" campaign in order to recognise the significance of this moment in time and we were delighted at how receptive they were to collaborate with us and deliver the incremental 2minute site takeovers at 11am on Sunday."
Source: VCCP Media