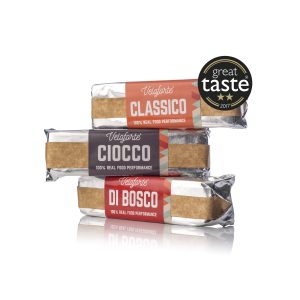 Veloforte, the multi award-winning, 100% natural endurance nutrition brand, has appointed Fusion Media to handle their PR brief for the UK market.
Fusion Media's PR brief focuses on engaging specialist, consumer and lifestyle media with the brand as they target the growing audience of cyclists and active sports in the UK.
Founded in 2016, Veloforte is focussed on creating the world's finest endurance nutrition. Their premium quality products prove that sports nutrition can at last be 100% natural, powerful and delicious – they are the only nutrition brand to have ever won the prestigious Great Taste Awards, and they are the most powerful natural products on the market today.
The recipe is based on an ancient Italian fortifier, Panforte. Unlike heavily-engineered synthetic products, Veloforte is handmade to provide the optimal balance of 100% natural, performance enhancing carbohydrates alongside essential proteins & fibre.
Founded in 2008, London-based Fusion Media is a boutique agency focusing on PR and Digital for cycling and endurance sports. Their portfolio of clients includes brands like Strava, where they work as the social network's European PR agency, Wahoo, Shimano and Telegraph Events.
Marc Giusti, Founder of Veloforte, said: "Veloforte helps people fuel-better through exceptional quality, 100% natural, products that set a new standard. We're excited to be working with Fusion to demonstrate that real food can help real people do extraordinary things."
Adam Tranter, Founder and Director at Fusion Media, said: "We have vast experience in sports nutrition and are pleased to be working with a brand who has a fresh, compelling take on what today's cyclists, runners and endurance athletes want (and need) from sports nutrition. Veloforte already has an amazing backstory and we look forward to bringing this to life."
He added: "The past year has been extremely successful for us as an agency as we continue to grow. This appointment has added to our expanding portfolio of clients in this space."
Source: Fusion Media