West Midlands Trains is rolling out the first work in a major, multi-channel rebrand campaign for London Northwestern Railway and West Midlands Railway, as the company embarks on a multi-million investment programme to future-proof both services.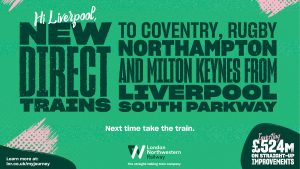 Created by Impero, the rebrand campaign is set to be one of the UK's most dynamic, consumer-centric transport campaigns this year – aiming to win the nation's hearts and minds and transform West Midlands Trains into the UK's most loved train company.
Dubbed 'The Investment Programme', the campaign will break with a series of posters and in-station activations, and will run throughout 2019, spanning out-of-home, digital, social, PR and video-on-demand – with media planning and buying from MediaCom.
Impero will unveil two distinct new personalities for the London Northwestern and West Midlands Railway brands – stripping out corporate jargon, bringing humanity to the two brands, and aiming to win the love and respect of the communities they serve.
Previous work for the brands has been predominantly price-led, but the new campaign will bring to life the great connections, improved services, new and refurbished trains and stations and outstanding customer support on offer at London Northwestern and West Midlands Railway – targeting the hearts and minds of customers across the UK.
Signalling the first major marketing activity since West Midlands Trains took on the LNR and WMR franchises in 2017, 'The Investment Programme' aims to improve customer services, grow sales and set services apart from the competition.
Impero will present West Midlands Trains as the straight-talking train company: a human brand which talks the same language as its customers: direct, honest and devoid of corporate gobbledygook.
For West Midlands Railway – a network spanning Birmingham, Shrewsbury, Wolverhampton, Hereford and Stratford-upon-Avon – Impero will create an earnest, honest campaign positioning the network as the railway brand for the community. The work will bring to life how WMR exists to serve the people of the West Midlands. 
For London Northwestern Railway, meanwhile, which connects London Euston with Liverpool Lime Street and Birmingham New Street, Impero has created an iconic new train brand, with a straight-up, says-it-like-it-is challenger campaign aimed at taking on some of the UK's biggest existing players.
Targeting commuters and leisure travellers alike, the LNR campaign will use frank but funny activations and fresh, smart creative aimed at savvy travellers looking, above all else, for a train company to be straight with them.
Penny Allen, Head of Sales & Marketing at West Midlands Trains, said: "We're investing £1bn into our services, so we have a lot to shout about! Passengers will soon be able to get direct services to even more destinations and will be able to travel on new trainsacross our network from 2021. These new straight-talking, honest campaigns speak directly to our customers, whether they're seasoned commuters or weekend leisure travellers. More and more people are choosing to travel by train, and with capacity across our network set to increase by 25%, there has never been a better time to show people why they should travel with us."
Michael Scantlebury, Creative Director and Founder of Impero, said: "This is the start of a properly exciting journey. We can't wait to kick off our mission to make West Midlands Trains the UK's most-loved train company – bringing in droves of new customers, turbo-charging sales, and spotlighting its straight-up, no-nonsense company ethos. And, with all the in-station activations we have lined up, travelling with LNR and WMR is about to get a whole lot more fun."
Source: Impero