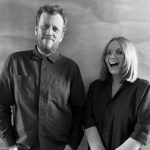 McCann London has hired top creative team Ray (Rachel) Shaughnessy and Dan Norris to further drive the agency's position as one of the most creatively-awarded in the UK. Ray and Dan join from Wieden + Kennedy London, where the powerhouse duo have partnered since 2006.
The pair join McCann as Executive Creative Directors. They will work alongside UK CCOs and London Co-Presidents, Rob Doubal and Laurence Thomson, to help run the expanding creative department. This appointment builds on the agency's already extensive creative success and lends a fresh, bold and innovative perspective to upcoming client campaigns.
Passionately involved in a number of initiatives that are rooted in Diversity & Inclusion, Ray & Dan's ethos aligns wholly with McCann London's commitment to nurture talent, support collaboration and drive industry inclusivity.
During their 15-year strong partnership, Ray & Dan have steadily and purposefully set about the business of transforming brands and creating best in class work for major players such as Lurpak, Three, Tesco, F1 and Sainsbury's, collecting a host of awards along the way.
Stand out successes include: turning around a 10-year decline in the reputation of mobile giant Three with a dancing Pony and a singing Kitty; repositioning of F1's comms with 'Engineered Insanity', creating work that included the world's fastest remix with The Chemical Brothers, a 15000BPM NEEEEUM that became the new global mnemonic; helping Lurpak become the number one butter brand in the UK and winning a prestigious Cannes Lions Grand Prix for Lurpak International with 'Weave Your Magic'.
Commenting on the appointment, Thomson said: "When Rob & I worked at W+K back in 2010 we really wanted to be as good as Ray & Dan. They have always been an immense talent, as you can see from their work. Recruiting them to McCann London is quite a coup and has been a long-held ambition of ours. We're super pumped to have one of the best creative teams in the UK, if not the world, join us and to see the London team bolstered by their unique flair".
CEO, Sheryl Marjoram further stated: "Ray & Dan are the start of a wave of excellent hires across all disciplines. We remain committed to the answer being talent; we already have our unfair share and we can cherry pick from the best, as we have with Ray and Dan. I couldn't be more excited about their arrival and cannot wait to see what we do together".
Shaughnessy & Norris added: "Please don't tell them, because we don't want them getting big-headed, but we've been fan-girling over the tremendous work that Rob and Laurence have been putting out at McCann for ages. But no-one does that stuff alone. They've been making 'we wish we'd made that' work with a brilliant list of clients and a great gang of people. We're honoured and excited to join them all".
This appointment follows another 12 months of exceptional creative success for McCann London. In 2019, a landmark year, 12 more Lions were awarded for 5 different clients contributing significantly to top accolades for the regional network including EMEA Network of the Year (Cannes Lions) and EMEA Agency of the Year (Campaign).
In the last five years, consecutive awards success has been mirrored by industry-defying business growth:
With 46 Cannes Lions and over 300 awards from all the major international shows McCann London has become one of the most globally-awarded agencies, being named the 7th most creative agency in the world by Warc 100 after winning the inaugural Cannes Lions Creative eCommerce Grand Prix in 2018. Growth momentum continues in 2020 with several notable new business wins for iconic brands; Pernod Ricard expanded its partnership with the agency by selecting it to deliver a new positioning and global campaign platform for the Lillet brand, and in addition, this week Adidas debuted the new '3 Bar Superstar' campaign created by the agency in partnership with sportswear retailer JD Sports and actor/musician Kano, to search for musical talent in celebration of the 50th anniversary of the Adidas "Superstar" shoe.
More broadly, McCann UK has been shortlisted twice in Campaign's UK Agency of the Year (2019, 2020) and its work for Aldi named most powerful Christmas ad by Kantar. The network also recently picked up an unprecedented number of EPICA awards reflecting its creative excellence across both the UK and Europe.
Source: McCann London