Hastings Direct and Wunderman Thompson are launching a new brand positioning "Simplicity is the best policy," to position the UK insurer as a distinctive and digital first brand.
Wunderman Thompson's new integrated brand campaign dramatizes the ease and simplicity that Hastings Direct brings to people's colourful and chaotic lives by providing them with the best-in-class digital experience and great prices. The campaign uses straightforward language and impactful visuals to create the tension between simplicity and complexity in a fun and memorable way.
The flagship TV spot has a memorable visual approach with a combination of, film, illustration and animation. Featuring a man driving alongside his cartoon double, he experiences some of the challenges that life can throw at you, but always with his Hastings Direct app to offer simple, app-based solutions in case of emergency.
Wunderman Thompson's message is that "Life may be complicated, but Hastings Direct insurance is simple." Animated characters humanise the brand message, bringing a host of different scenarios to life, as a voiceover contrasts some difficult truths – relationships are messy, fashion is crazy, finding your way is hard, and family life is tricky – with the simplicity of the solutions offered by Hastings Direct.
Finn Walsh, Hastings Digital and Marketing Director said, 'Our new brand positioning is a big leap for us, both creatively and as a business. We're extremely proud of what we've achieved with Wunderman Thompson, particularly as it was delivered almost entirely over MS Teams! It ushers in an incredibly exciting time for us. Over the next 18 months, our Digital Transformation roadmap adds to an already strong Digital experience that's simple and straightforward for our customers, including the app – which is the highest rated insurance app in the UK.'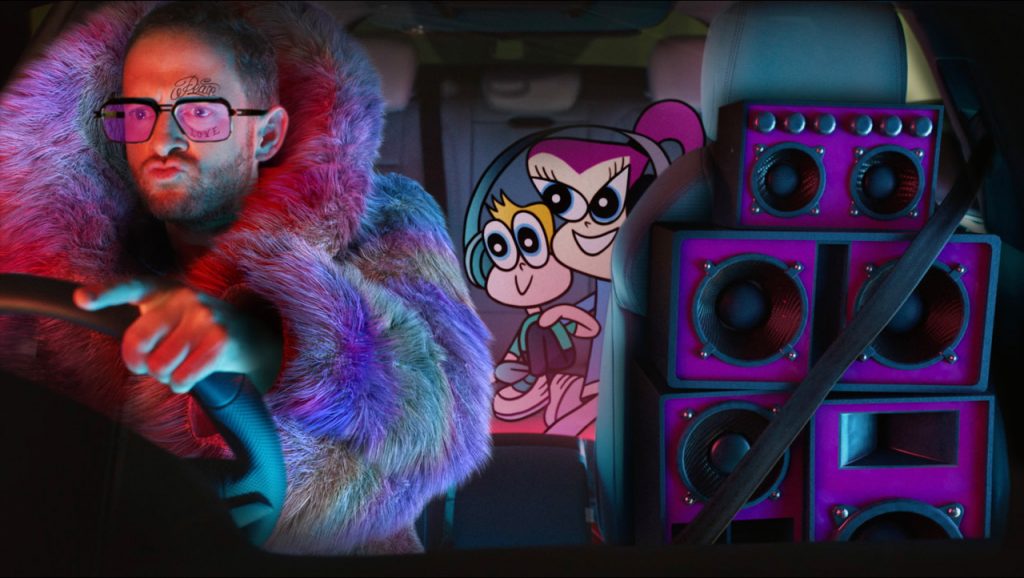 Steve Aldridge, Chief Creative Officer at Wunderman Thompson said, "'In a hyperbolic category overloaded with mascots, we wanted to remind people of how insurance with Hastings Direct can be simple and straightforward. We use a mix of photography and animation to metaphorically dramatise what happens in the category and in people's lives whilst building an unforgettable brand for Hastings. It's a huge step, both strategically and creatively, from the seagulls and statues that we're proud to play a part in."
The new brand positioning has also been integrated into commerce. Wunderman Thompson's commerce team has redefined and redesigned the Hastings car insurance purchasing journey, ensuring the customer experience brings the new brand to life whilst delivering a simpler, faster experience.
Hastings Direct appointed Wunderman Thompson to the business in August 2020 after a competitive pitch, and this is the agency's first work for the brand, introducing an end-to-end experience that plays both above and below the line. 
Credits
Brand: Hastings Direct
Chief Commercial & Marketing Officer: Jatin Patel
Digital & Marketing Director: Finn Walsh
Brand Manager: Luke Goldsmith
Creative Agency: Wunderman Thompson
CCO: Steve Aldridge
Managing Partner: Natalie Heselton
Creative Director: Chermine Assadian
Strategy Partner: Isabella Mulholland
Creative: Sara Soares, Maria Leiria
Account Director: Jack Barber
Snr Project Manager: Verity de Courcy Norman and Anna Carpenter
Agency Producer: Greg Nicholls
Executive Producer: Sonny Botero

Director: MANSON
Production Company: CANADA
Executive Producer/MD: Oscar Romagosa
Executive Producer: Marta Bobic
Head of Production: Alba Barneda
Producer: Davey Ahern
Production Manager: Imogen Rigby
Production Coordinator: Sophie Williams
DoP: Patrick Meller
Motion Control: Mr Moco
Production Designer: Zoe Koperski
Costume Designer: Terri Higgins
​Animation and Post-Production: Bliss​
Post-Production Producer: Maria Soler Chopo
​Art Director and Character Designer: Martí Carós – Sawe​
Editor: Estel New Roman
Colourist: Julia Rossetti
Sound Design: Philip Bolland
Sound Producer: Deborah Whitfield @ Factory
Music Supervision: Tom Kitson @ Soho Music
Voiceover: Naz Osmanoglu
Source: Wunderman Thompson