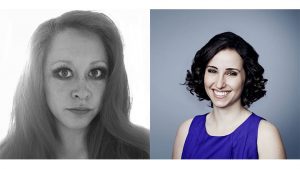 Yahoo Finance announced the appointment of Lianna Brinded as Head of Finance and Alanna Petroff as Senior Economics Reporter. The new hires reflect Yahoo's growing effort to expand its global presence, in the UK and beyond.
Brinded, who joins from Quartz, where she is currently Europe News Editor, will lead the Yahoo Finance strategy in the UK, building on its global reputation as one of the largest business and financial news sites in the world for consumers. Petroff joins Yahoo Finance from CNN Money, where she is currently Senior Business Reporter and Producer.
A seasoned editor, Brinded has helped build multiple teams and newsrooms for various publications, as well as presenting and producing a number of short and long form videos across various digital platforms. Prior to Quartz, Brinded was a Senior Editor at Business Insider where she helped establish its presence in the UK and oversaw breaking news operations. Previously she held positions at other media organisations including CNBC and Dow Jones.
Petroff will be focused on driving Yahoo Finance's economics coverage and the impact Brexit will have on trade, wages, the housing market, jobs and inflation, as part of her role as Senior Economics Reporter. During her time at CNN Money, she covered a range of British, European and international topics, including Brexit, global trade, energy markets and aviation. She also frequently appeared on CNN's top business shows. Prior to joining CNN Money, Petroff covered personal finance and investment topics for Morningstar.co.uk and worked as a reporter and host at a range of radio stations in Canada. Her business writing has been featured in more than a dozen publications, including The Financial Times and Forbes.
Yahoo Finance is among the leading financial platforms in the world. With unrivalled access to business and financial data — presented alongside premium editorial content and a rapidly growing slate of live video programming — Yahoo Finance brings a unique combination of tools, insight and analysis, across desktop and mobile.
Joanna Lambert, General Manager of Finance and Tech, Oath says: "I'm excited to welcome not only Lianna to our growing global newsroom as Head of Finance, but Alanna as Senior Economics Reporter. 2018 is already proving to be a pivotal year for Yahoo Finance as we expand our newsroom globally and make true on our commitment to build Yahoo Finance into a globally recognised brand for consumers who are passionate about finance."
Nicholas Petche, Editor-in-chief, Yahoo UK says, "We're thrilled to be investing in quality journalism and expanding the Yahoo Finance newsroom in the UK with Lianna and Alanna coming on board. Yahoo Finance has established itself as a trusted platform, read by millions across the world. We are committed to bolstering our UK financial news and insights for our readers so they can make their money work harder."
Lianna Brinded, adds: "I'm thrilled to be joining Yahoo Finance where original journalism and original video take precedence. At a time where the UK is seeing some real challenges and changes in the economic climate, I'm excited to be leading a team that will aim to be at the forefront of everything from property and cryptocurrency, to Brexit and trade tariffs."
Brinded and Petroff will both be based in London. Brinded will start on 6 August and Petroff will begin in September. Both will report in to Nicholas Petche.
Source: Yahoo Finance