When it comes to apps, consumer behavior doesn't always follow a predictable path. That's especially true of restaurant apps, which emerged during the pandemic as a key communications and sales channel for dining establishments of every type. They have proved popular among diners, according to "The Battle for Mobile App Mindshare" by Halverson Group, a global research and strategy agency.
An estimated 52% of Americans have used at least one restaurant app as of February 2022, up from 48% in February 2021, according to Halverson Group. Apps not only create a seamless and convenient ordering experience, but have the potential to improve a restaurant's overall business. Operators like them for their contribution to labor savings and their ability to boost customer loyalty and increase the average order size.
Even so, having a great app doesn't necessarily mean diners will stick around for their main course, according to the agency, whose new Restaurant Intelligence Dashboard provides critical customer data across key metrics, ranging from app and location behaviors to more granular insights such as restaurant app use share, app use to physical visit conversion and app satisfaction ratings. Restaurant Intelligence Dashboard is part of the agency's Community Intelligence Platform, a proprietary audience intelligence tool launching in early 2023 comprising highly engaged opt-in users providing real-time location, app use and motivational feedback.
Halverson recently completed a test of the Restaurant Intelligence Dashboard with a major national QSR chain and the results underscored just how unpredictable the path to purchase via an app can be and how valuable its insights can be in such a competitive landscape.
Halverson discovered major differences in how people use restaurant apps. While many people opt to use them to complete the ordering process after deciding what they want to eat, nearly 20% use them as a kind of recommendation tool, selecting where and what they want to eat only after visiting multiple apps.
While someone entering a brick-and-mortar restaurant is typically going to place an order, the same customer who virtually "enters" a restaurant via an app might go to the place down the street. In fact, on average one in four people (28% as of February 2022) opening up a restaurant's app end up purchasing from a rival restaurant brand.
"There's a fierce battle to be won in converting app visits to restaurant visits — and winning or losing could have a significant impact on revenue," says Ron Halverson, Ph.D., president and founder of Halverson Group, whose ability to engage with app users through real-time interviews and focus groups helped uncover the key "whys" behind their behavior, such as deal comparisons or app functionality. "When it comes to restaurant eating, there are innumerable apps for that, but, as Restaurant Intelligence Dashboard proves, even a great app is no guarantee of closing the deal on a meal."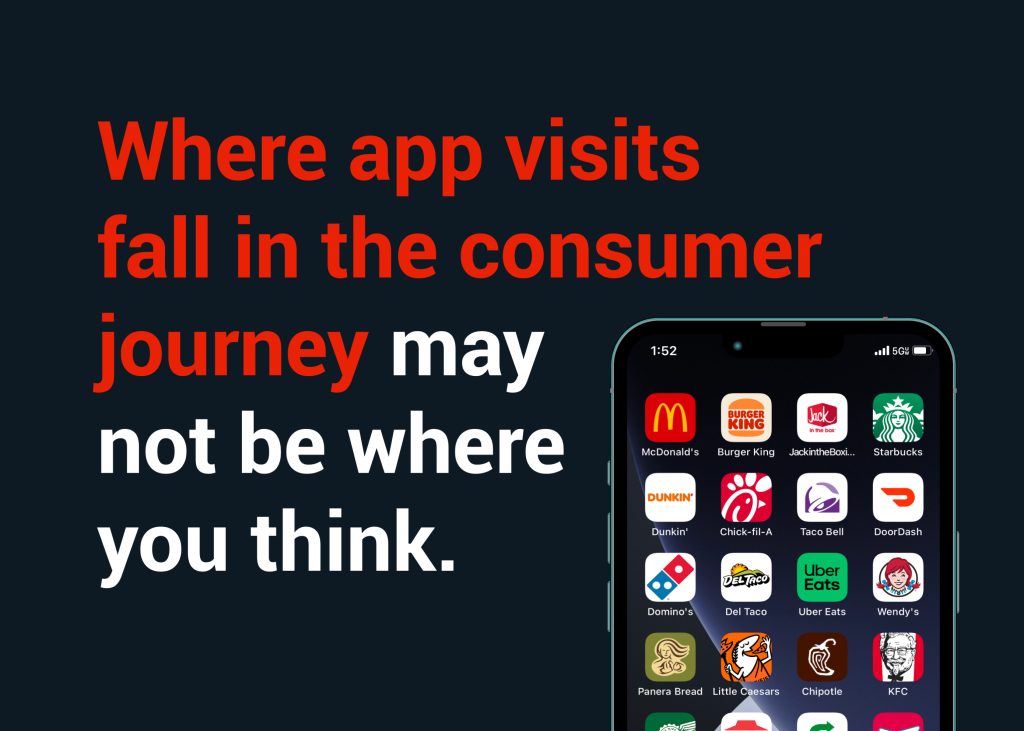 Halverson's Community Intelligence Platform is composed of 100% opt-in and verified users representing key audiences, such as Gen Z and consumer segments, such as multicultural, foodies, beauty enthusiasts, etc. The platform is designed to provide extensive insight into consumer behavior that includes their physical and digital footprint, their emotional connection to brands and their competitors, where and what messaging they're paying attention to and benchmarks for recent brand interactions in the physical and digital realms.
Source: Halverson Group