Audi UK has launched 'e-tron Charge Ahead', a new social media campaign which aims to tackle widespread consumer misconceptions around electric vehicles.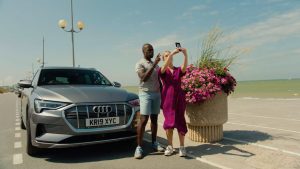 Created by global socially-led creative agency We Are Social, 'e-tron Charge Ahead' centres on a three-part video series, published across Audi UK's Facebook and Instagram accounts. It follows presenters, Ortis Deley and Georgie Barrat, as they head on a road trip from the UK to the carbon-neutral Audi electric mobility production facility in Brussels behind the wheel of a brand new all-electric Audi e-tron.
Along the way, the duo use their experience and expertise to debunk some of the most common myths relating to electric vehicles, such as not being able to go off-road or on long journeys. While on the trip, the pair also explore some of the key tech features in the Audi e-tron, such as its virtual cockpit and 360-degree camera.
In addition to the three films, cut-down edits will be targeted to Audi's audience across Facebook and Instagram, supported with paid media. The paid media activation will retarget engaged viewers of the films with Audi's e-tron car configurator – a global automotive first for Facebook Instant Experience allowing fans to design their own custom Audi e-tron – followed by lead generation ads to encourage test drives.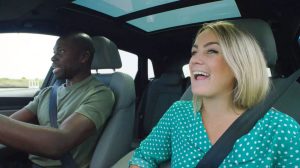 Emma Page, social media lead, Audi UK, said: "As technology continues to reshape the automotive sector, leading the charge for championing its adoption is essential for future proofing our business. We're looking to educate consumers about the benefits of electric cars, and support them in making the transition, should they choose to. With Ortis and Georgie, We Are Social have found the perfect ambassadors to bring our message to life, and the fact that people can customise their own car and even book a test drive through Facebook means social can contribute to every aspect of the sales funnel."
Nick Dodd, group account director, We Are Social, added: "One of the biggest challenges for automotive brands on social media is being able to promote new technologies in a space where, all too often, opinion can be taken as fact. For electric vehicles in particular, brands need to be actively addressing consumer skepticism around the technology, as this fuels the mainstream misconception that the vehicles are still very niche. By working with Ortis and Georgie for this campaign, we were able to shape a narrative that will begin to breakdown some of these barriers to adoption. By highlighting the point of view of the driver, not the brand, we hope we've created a film series which fans will still enjoy watching."
Source: We Are Social