The integration of global digital advertising company Inskin Media will improve Azerion's technology stack and boost its advertising capabilities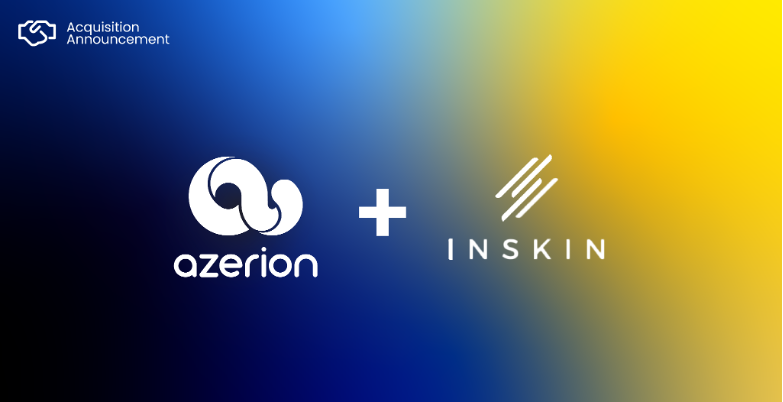 Azerion, the fast-growing digital entertainment and media platform, today announces the acquisition of leading multi-screen, high-impact digital advertising company, Inskin Media.
This integration into the Azerion platform serves the company's ambitions to become the leading European digital entertainment and media platform. The expertise of Inskin Media will give Azerion's clients access to a wider range of scalable, high yielding and impactful ads.
"We are delighted to welcome Inskin Media to our platform. Their focus on delivering high impact digital brand advertising to clients and partners aligns perfectly with our business ethos. The integration will also create great synergies within our best-in-class network of programmatic and digital advertising providers," explains Joost Merks, Chief Investment Officer of Azerion.
Inskin Media is on a mission to maximise impact in digital campaigns and the fast-growing ad technology company recently launched a number of new products following increased demand. Specialising in multi-screen, high impact digital brand advertising, it is dedicated to creating memorable and effective experiences online. The company partners with 260 publishers, works with over 1,000 blue-chip brand clients and delivers campaigns to more than 2,000 premium websites, globally.
Iain Jacob, Chair of Inskin Media, comments: "Inskin Media's story is one of innovation, quality and growth, and so Azerion – as one of the fastest growing media platform businesses in Europe – is the ideal home for us. Azerion is rapidly building a powerful force in digital content and marketing. We love its 'can do' attitude and incredible development pace and we are really excited to become part of their growth story.'
Matthew Newcomb, CEO at Inskin Media, adds: "Tackling attention scarcity in digital advertising is one of the most pressing challenges faced by advertisers today. Our experience and expertise in developing and delivering fantastic brand advertising campaigns will help Azerion's clients generate greater positive engagement and drive outstanding business results."
This latest news follows the announcement this week that Azerion acquired monetisation platform PubGalaxy, and earlier this year acquired Sublime, as the company looks to bolster its advertising offering in Europe. In April 2021 the company secured €200M (£168) in funding. Inskin is the ninth company that has been acquired by Azerion in 2021.
Source: nskin Media