[KGVID width="600″ height="338″]https://marcommnews.com/wp-content/uploads/2015/10/30sec_ONLINE-MASTER_noclock_221015.mp4[/KGVID]
Bank of Scotland is releasing a new campaign showing how its new Business Current Account can help simplify the busy lives of small business owners.
The campaign, created by RKCR/Y&R, features an online film, titled 'The Man Who Tried To Do Everything', which is a humorous take on what happens when a small business owner tries to take on all the roles his business demands – from accountant to IT support.
The campaign aims to show that Bank of Scotland understands small business owners have a lot of demands on their time and has designed its Business Current Account to simplify their everyday banking – giving them the chance to focus on their business.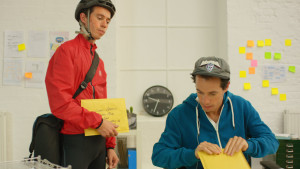 The campaign, which launches on Monday, October 26th, spans VoD, press, radio and digital.
Richard Carpenter (Head of B2B Marketing, Lloyds Banking Group):
"Small businesses play an important role in the Scottish economy, and we know how demanding being your own boss can be. The campaign promotes our new product that delivers value and simplicity, but also reflects how these brilliant Scottish businesses operate. We're delighted to have worked with James Cosmo again, featuring as the voice-over in our radio and video-on-demand executions, which builds on the success of previous 'Decisions Well Made' work. RKCR/Y&R have pushed the creative boundaries while staying true to the essence of the brand, and we are very proud of this highly targeted campaign."