The Tel-Aviv Gay Pride Parade is a world-renowned extravaganza. But colourful as it may be, it does little to further the rights of the LGBT community who cannot marry, adopt or be a parent. Basic rights denied by Israel's increasingly conservative government.
That's why when another law affecting and effectively discriminating the LGBT community was brought to vote on July 18th, creative agency BBR Saatchi & Saatchi told their client, The Aguda, they needed to get ready to fight.
Their suggestion: A one-day nationwide strike urging the LGBT community to stay away from work and show the entire country that they are not second rate citizens and that this law affects people from all walks of life. People they know and work with. Doctors, lawyers, pilots, hi-tech workers and many more productive people employed everywhere.
While the agency were unsure how the country would respond, even they were surprised by the extent of the public endorsement of their cause. Within hours of the announcement, leading companies and people all over the country joined the struggle.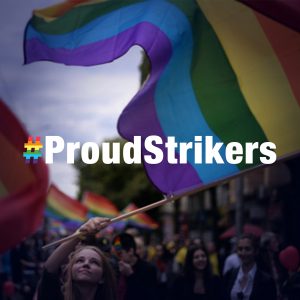 While international companies like IBM and Apple made public global announcements denouncing the law, other companies freed their staff and promised not to charge them for the day off – some going even further than that and promising their employees to fund such complicated affairs as surrogacy procedures which cost up of half a million shekels.
Surprisingly, FMCG companies usually scared of religious boycotts of their goods (the religious orthodox have great spending power and often use it to curb companies to their will) joined the cause too as did hospitals, workers unions, celebrities, politicians, government ministries and even police officers who are traditionally banned from striking.
Notwithstanding this, gay talk show hosts canceled their show while news and entertainment websites blackened their screens.
Last but not least, people all around social networks changed their profile pics to mark their support, and while over a million people were exposed to the rally event on Facebook, 100,000 took to the streets to demonstrate and express their outrage.
But the greatest achievement of all is by far the fact that although the Israeli parliament is now officially in recess –BBR Saatchi & Saatchi succeeded in making them call an emergency meeting to re-examine the law.
Source: BBR Saatchi & Saatchi